Former Borussia Dortmund and Australia goalkeeper Mitch Langerak has taken the J1 League by storm since joining Nagoya Grampus in 2018.
If making history for most clean sheets in Japan's top flight was not enough in 2020, Langerak broke his own record through just 28 matches this season – 18.
No stranger to breaking records, Langerak also eclipsed the mark for most consecutive J1 League clean sheets with nine earlier in 2021.
Third-placed Nagoya have conceded just 22 goals after 29 rounds – a figure only bettered by leaders Kawasaki Frontale, while Langerak has kept four clean sheets for the 2010 J1 League winners en route to the AFC Champions League quarter-finals.
Speaking to Stats Perform ahead of Wednesday's trip to FC Tokyo, Langerak said: "We're a very strong team at the moment. Obviously it helps when we have a strong mentality within the group and a good bunch of guys who are really working together for the team's benefit, whether that is going forward or back.
"I think it's a complete team effort. I don't really count clean sheets or worry too much about them because I tend to look at my performances as a whole. I can be equally as happy if I concede one goal but done so many good things as opposed to not doing a lot but keeping a clean sheet. I try to look at my game as a whole and continually try to improve on the things I don't do so well."
Since leaving LaLiga's Levante for Nagoya three years ago, Langerak has registered the most clean sheets (50) for a goalkeeper.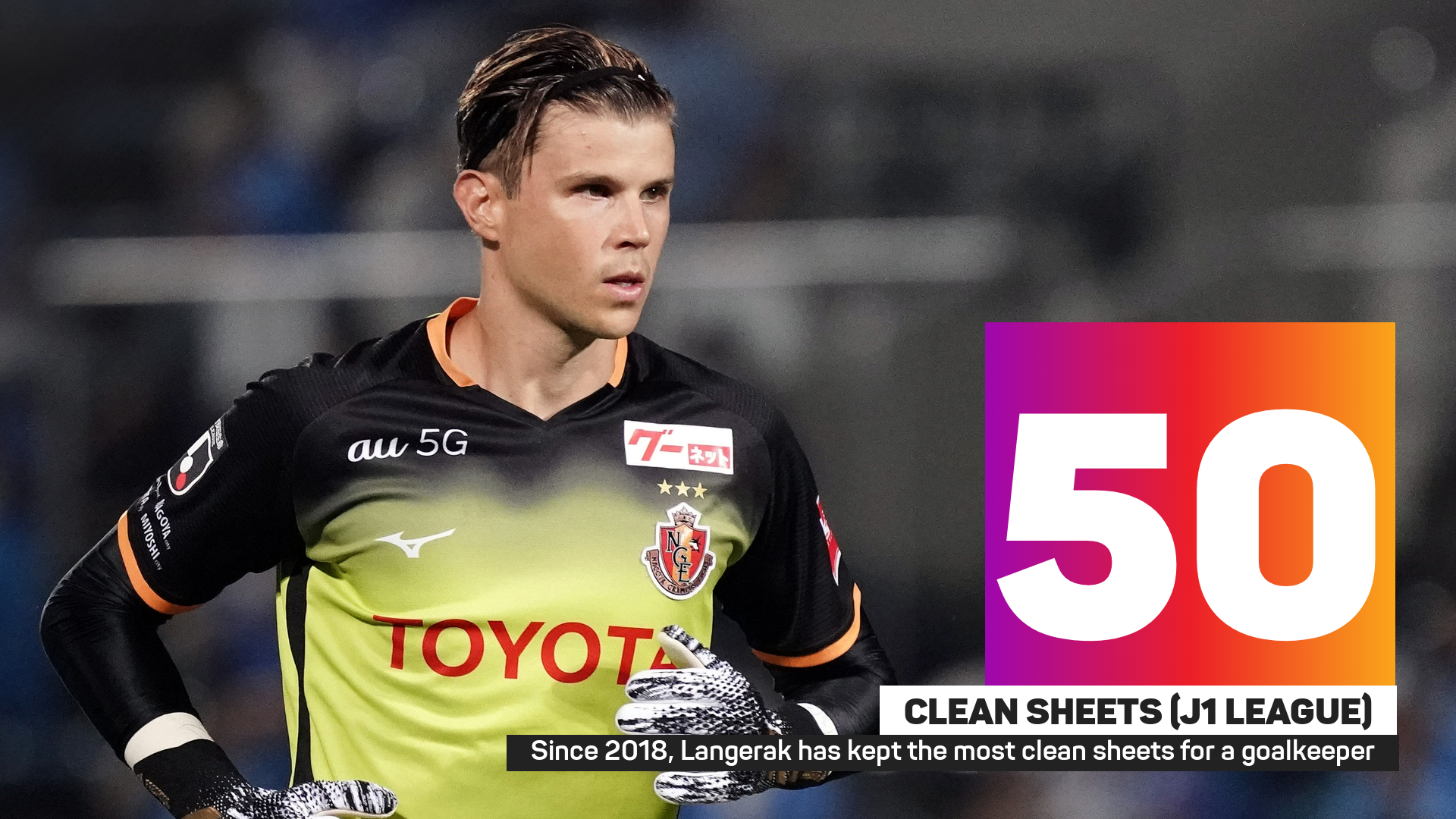 Langerak has conceded 0.76 goals per game in J1 League this season. Since 2015, Cerezo Osaka's Kim Jin-hyeon in 2019 (0.74) is the only goalkeeper to boast a better average of goals conceded per game in a season than the Australian.
Nagoya have not conceded in 18 of their 29 league fixtures this term. If Massimo Ficcadenti's men keep another clean sheet, they will surpass the 1995 Yokohama F.Marinos (18 in 52 league matches at the time) for the most shutouts in J1 history.
"In the last couple of years, I've really started to enjoy my football a lot more. Really been a lot calmer and relaxed about my game," Langerak said. "Looking at my performances as a whole and not only worrying about making saves or clean sheets or goals conceded. Just trying to do all the small things right.
"One of the biggest things is controlling balls in the air. These days I come out for more or less everything. Getting a good punch as much as I can or taking clean crosses. Getting out and dominating the box so much more than when I was a bit younger. That's the biggest thing I've changed. I've realised I'm stopping a lot of goals purely by getting balls of out of the box that get put in from the sides."
This season, Langerak has a save percentage of 72.15 – he finished with a 72.55 percentage at the end of 2020.
 clean sheets in appearances for @nge_official!

 Unreal, @MitchLangerak25. https://t.co/5SQTBoR5bs

— J.LEAGUE Official EN (@J_League_En) September 16, 2021
The 33-year-old's save percentage in the penalty box (66.67) is currently a career high in the J1 League.
For punches, Langerak (26) is second only to Avispa Fukuoka goalkeeper Masaaki Murakami (30).
In terms of clearances (including punches), Langerak ranks fourth among goalkeepers this season with 35, behind Kashiwa Reysol's Kim Seung-gyu.
His clearances and punches numbers have both increased since 2018-19 – Langerak's 35 clearances are a personal best in the J1 League, while his 26 punches are equal with his previous best last season.
"I'm always looking at the stats and data. Watching footage of opposition players. Regularly looking at everything after games – my own ball contacts, passing accuracy. Things like this I'm interested in," added Langerak.
"Obviously a huge effect comes from the way your team plays. So for a goalkeeper, with passing stats, it's generally determined by how your team plays. If you're playing out then you're going to have a lot of short passes that are 100 per cent successful or if you're a team that maybe plays longer balls or doesn't tend to take risks at the back, you might play long balls to your striker where your passing accuracy is a little off.
"In terms of opposition, I look at the expected front four, highlights, where they've scored their goals, where they're dangerous, what they like to do – right foot, left foot. I try not to go into too much depth, just a four-minute snapshot video."