Lionel Messi has Le Classique on his mind, not El Clasico. Cristiano Ronaldo faces the daunting challenge of trying to out-match Mohamed Salah, arguably the best forward in the world at this moment.
This Sunday is one of those remarkable days in European football, with Messi and PSG heading to Marseille for a Velodrome battle, while Ronaldo and Manchester United tackle Liverpool.
Sunday also sees Barcelona and Real Madrid clash at Camp Nou, in LaLiga's first Clasico since Messi followed Ronaldo by bidding Spain farewell.
It is one of those quietly momentous moments in sport. The recent US Open tennis tournament happened without Roger Federer and Rafael Nadal, and now a Clasico in Spain's post Messi and Ronaldo era is upon us.
Using Opta data, Stats Perform looked at the impact Messi and Ronaldo have had on world football's biggest club game.
Messi and Ronaldo were Clasico mainstays
For the duration of Ronaldo's nine-year stint with Madrid, neither he nor Messi missed a Clasico in LaLiga. Both started 17 games and appeared as a substitute once each.
And the raw facts tell us Messi had far more to celebrate in the league series, with Barcelona winning 10 times and Madrid notching just four victories, with four games drawn, an aggregate scoreline of 39-23 going in the Blaugrana's favour.
Madrid had an average of 14.1 shots per game to 13.0 by Barcelona, but the capital side could not make that slight advantage count in the overall reckoning.
Taking all competitions into account, Madrid's overall Clasico record in the Ronaldo era perked up slightly (W10 D8 L14). They had two Copa del Rey final wins over Barcelona in this time, with Jose Mourinho's side snatching a 1-0 win thanks to Ronaldo's extra-time header in 2011. Ronaldo was then absent through injury for the 2014 final, Madrid winning 2-1 after a late golazo from Gareth Bale.
A Champions League semi-final success for Barcelona in 2011, however, was a sweet knockout blow, delivered after a swift double jab from Messi, his double in a 2-0 win at the Bernabeu being the telling contribution. Messi's goals that night, from a personal expected goals (xG) total of 0.8, were a blow from which Ronaldo and Madrid could not recover in the second leg at Camp Nou. Barcelona went on to beat Manchester United 3-1 in the final, Messi scoring the second goal and being named man of the match.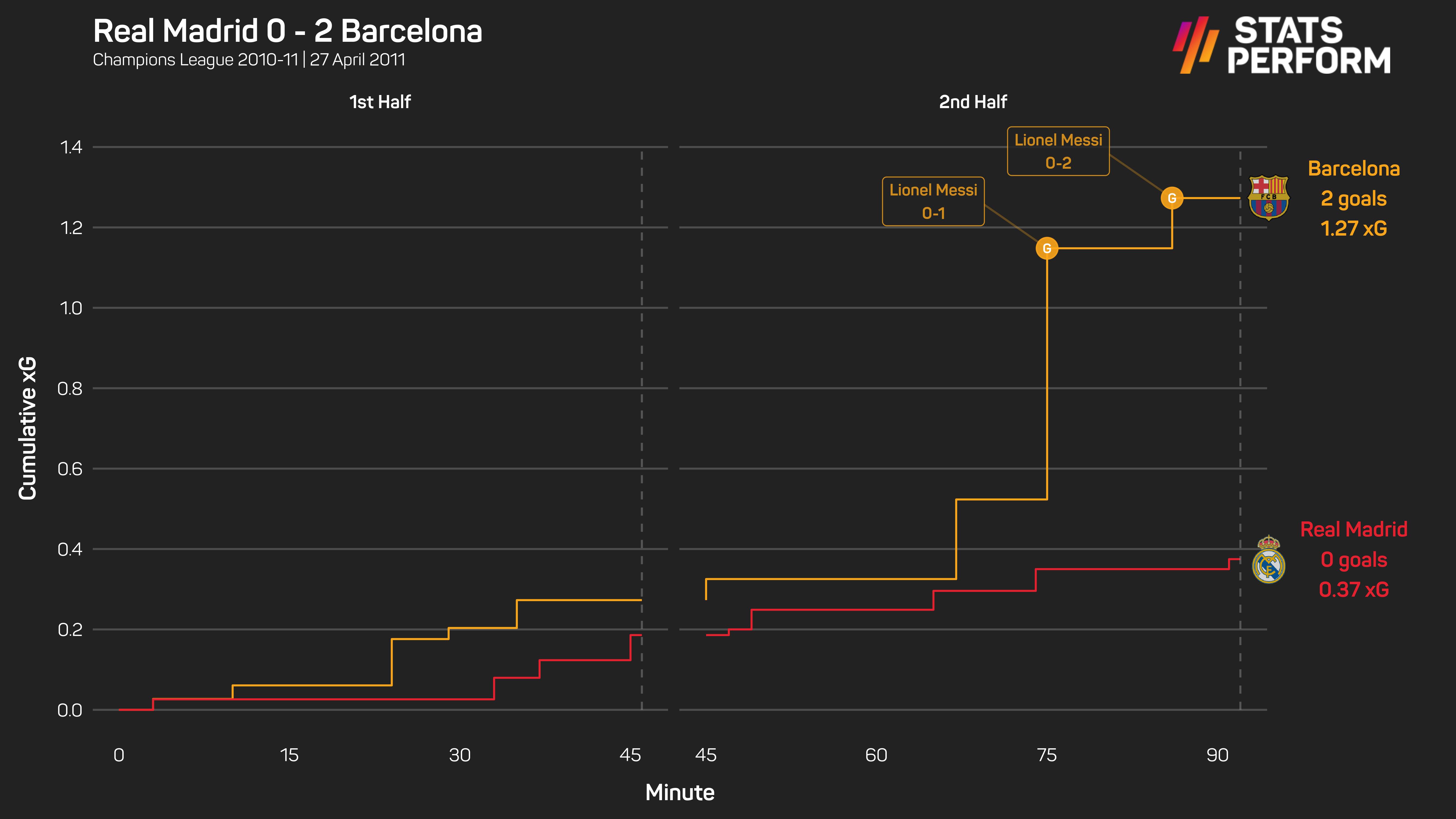 Who was Clasico goal king of the record breakers?
Messi hit an all-time record of 474 goals in LaLiga and Ronaldo grabbed a sensational 311 in nine seasons, but who saved their best finishing form for El Clasico?
The data tells us Messi wins this one, with both players deadlier away from home during their head-to-head rivalry.
Ronaldo hit six goals in nine LaLiga games at Camp Nou, but he only managed three at the Bernabeu against Barca, and they were all penalties. In Madrid's home league tussles with Barcelona, Ronaldo's shot conversion rate was just 6.4 per cent, but it would have been 0.0 per cent without those spot-kicks. The 6.4 per cent conversion rate ranked, of all the fixtures in which he scored in LaLiga, as Ronaldo's fourth worst.
Messi, during that same 2009-18 period, grabbed nine goals in nine league games at the Santiago Bernabeu, four of them penalties, and also scored three in nine home games against Madrid, a free-kick and two from open play. His shot conversion rate of 11.1 per cent at home was balanced out nicely by a sharp-shooting 27.3 per cent away to Los Blancos.
Six assists from Messi to just one from Ronaldo in the nine-season rivalry further underlined the Argentine forward's upper hand in these games.
Across his entire Barcelona career, which spanned 17 years at first-team level, Messi scored 18 LaLiga goals in Clasico battles.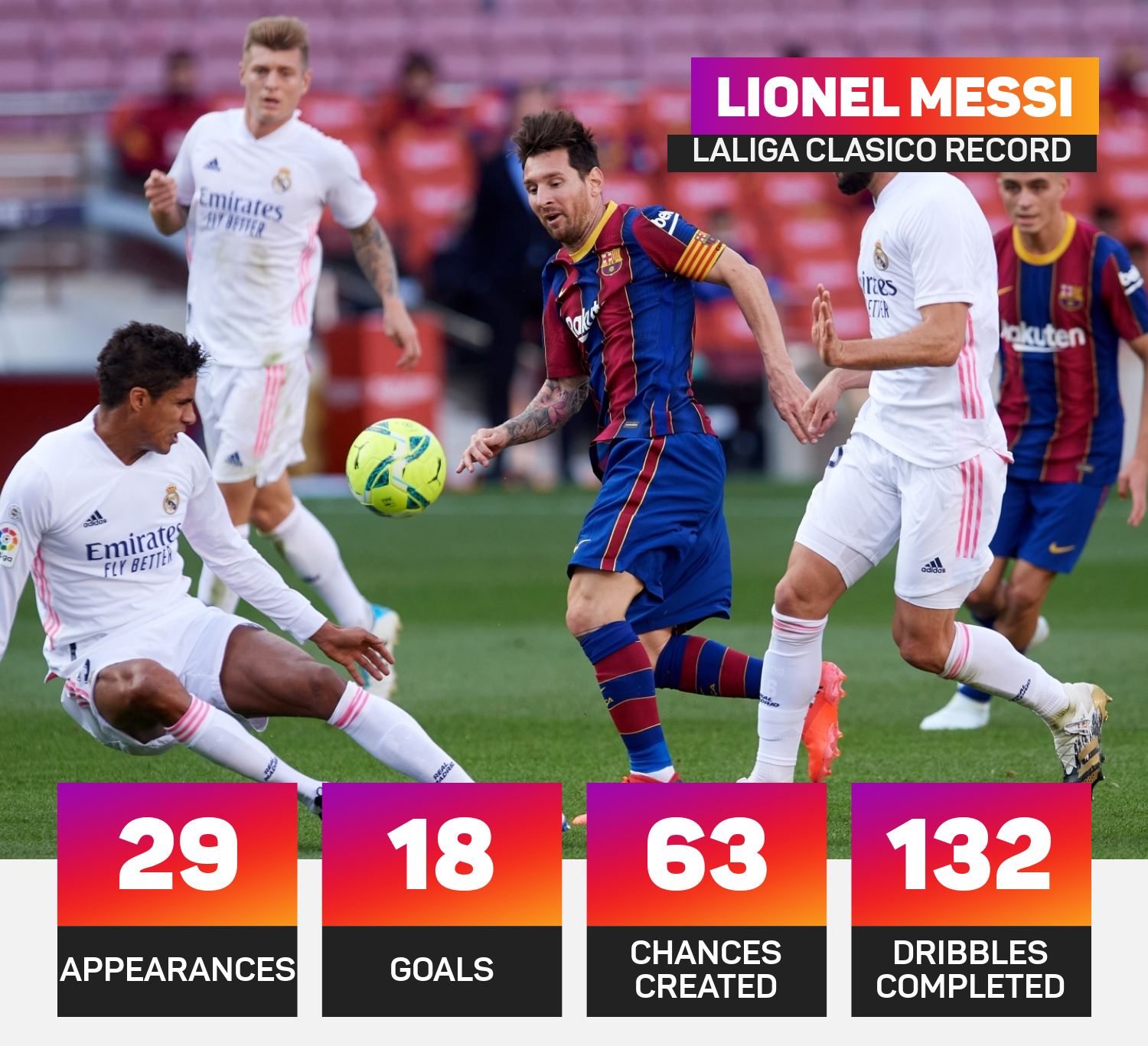 What more can we learn from the Leo v CR7 LaLiga years?
Madrid targeted Messi, or at least the numbers suggest they tried to stop him through fair means or foul, albeit with limited success.
He was fouled 30 times at Camp Nou and 26 times at the Bernabeu during Clasico league games. No LaLiga opponent fouled Messi more than that combined total of 56 during the nine-year spell of the Ronaldo rivalry (Atletico Madrid - 47, Espanyol - 46).
Madrid conceded an average of 18.2 fouls per Clasico during that era, and won 12.6, and such margins can be significant.
Barcelona had a string of pass masters in their ranks, with the likes of Xavi, Andres Iniesta and Sergio Busquets bossing the midfield for much of this vaunted period, and in the LaLiga Clasico games their precision was noticeable.
Passing accuracy of 84.2 per cent in the opposition half during games against Madrid during the Ronaldo years showed where they excelled, and Madrid's 74 per cent mark in this category showed they were often losing possession.
Giving the ball away to any team can spell trouble, and being inaccurate with more than a quarter of passes in the Barcelona half pointed to problems. Only against Rayo Vallecano (71.7 per cent) did Madrid have worse accuracy in that area of the field while Ronaldo was at the club, and that hardly mattered as they won all 10 of their LaLiga games against the side from nearby Vallecas.
Ronaldo's 73.6 per cent passing accuracy against Barcelona was his third worst against any LaLiga opponent, while Messi soared above him with 83.7 per cent, his sixth highest against all league opposition for the seasons from 2009-10 to 2017-18.
The fact he pulled off such consistency while targeting high-tariff manoeuvres in enemy territory further served to underline Messi's dominance of perhaps the greatest LaLiga Clasico head-to-head of them all.