December 2, 2018. In the 56th minute of Unai Emery's first north London derby in charge of Arsenal, Pierre-Emerick Aubameyang curled a sensational first-time finish beyond Hugo Lloris to level the scores at 2-2.
Aubameyang's strike – his second goal of the game after a first-half penalty to open the scoring – sent the home faithful into raptures at Emirates Stadium, and the Gabon forward went on to tee up Lucas Torreira to score Arsenal's final goal in a 4-2 victory.
Having arrived from Borussia Dortmund in January of that year, Aubameyang scored 22 Premier League goals in 2018-19, sharing the league's Golden Boot award with Liverpool duo Mohamed Salah and Sadio Mane.
It was a tally he matched the following season, trailing the competition's top scorer Jamie Vardy by one, but after prolonged contract negotiations finally resulted in Aubameyang signing a new three-year contract last September, his form has hit a wall.
His league total dropped to just 10 goals last season, as Aubameyang netted just three times prior to the turn of the year.
Despite featuring in each of Arsenal's league games so far this season, Aubameyang only has one goal, which came in the 1-0 win over Norwich City earlier this month. He had six attempts in that match, getting just two on target.
At 32, it seems Aubameyang's prime is now behind him, though could Sunday's north London derby with Tottenham be the catalyst to spark his form and really get Arsenal's season up and running?
Using Opta data, Stats Perform assesses if there is a way back to the top for Aubameyang, or is the end of the road approaching?
Shoot on sight not always the right call
Aubameyang's second goal in that derby in December 2018 was a moment of magic, as he caught Lloris out with a sensational first-time strike from outside the box.
However, the shoot-on-sight policy is not seeming to be an effective fix for Aubameyang's fading form.
Aubameyang has at least scored this season and has mustered nine attempts in the league, but those efforts have had an average worth of 0.14 xG (expected goals) – the lowest mark of his Arsenal career.
Given the one successful strike – against Norwich – was a goal-line finish worth 0.96 xG on its own, the second-best chance of the entire Premier League season by that metric, it is easy to paint a picture of otherwise ambitious shooting habits from Aubameyang. His remaining eight shots have had a combined xG of 0.39 – or 0.05 per shot – signifying they came from chances where a player is highly unlikely to score.
At odds with struggling Spurs talisman Harry Kane, who has had just four attempts so far this season and has recorded just 7.5 per cent of his touches in the opposition box, Aubameyang is taking a career-high 17.1 per cent of his touches in the opposing area, yet the Tottenham number 10 has matched his three shots on target so far.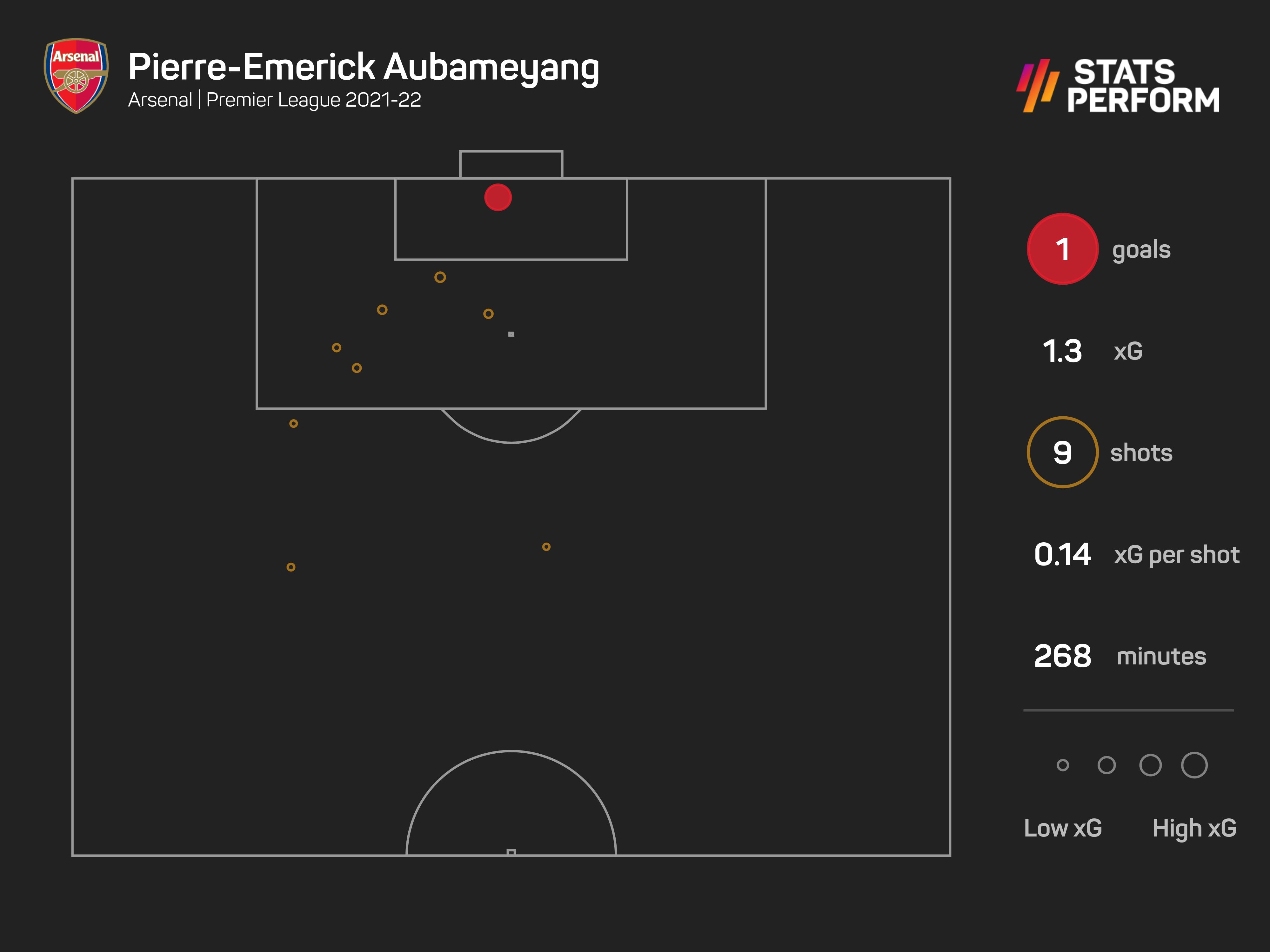 The Laca factor
Arsenal have been blessed in recent seasons, with two – on their day – top-quality goalscorers to call on in the form of Aubameyang and Alexandre Lacazette. Though at times, that may well have resulted in both players having to compromise.
The latter has made only one league appearance so far this term, replacing Aubameyang in the second half of Arsenal's 5-0 thrashing at the hands of Manchester City last month, and there has at times been an issue with fitting both strikers into the team.
Aubameyang has often been deployed wide to accommodate Lacazette, who in turn has at times played deeper or had to settle for a place on the bench in order to fit his fellow striker into a central berth.
Since Aubameyang arrived at the club, he and Lacazette have played in 92 of the same games, with the Gunners recording 40 wins, 20 draws and 32 defeats.
That win rate of 43.5 per cent is significantly less than the 55 per cent success record from matches where one of the strikers did not play (22 wins from 40 such games).
It would suggest the way forward for Arsenal now is to stick with one or the other. Lacazette outscored Aubameyang in the league last season, though as the Gunners skipper the latter is seemingly ahead in the pecking order.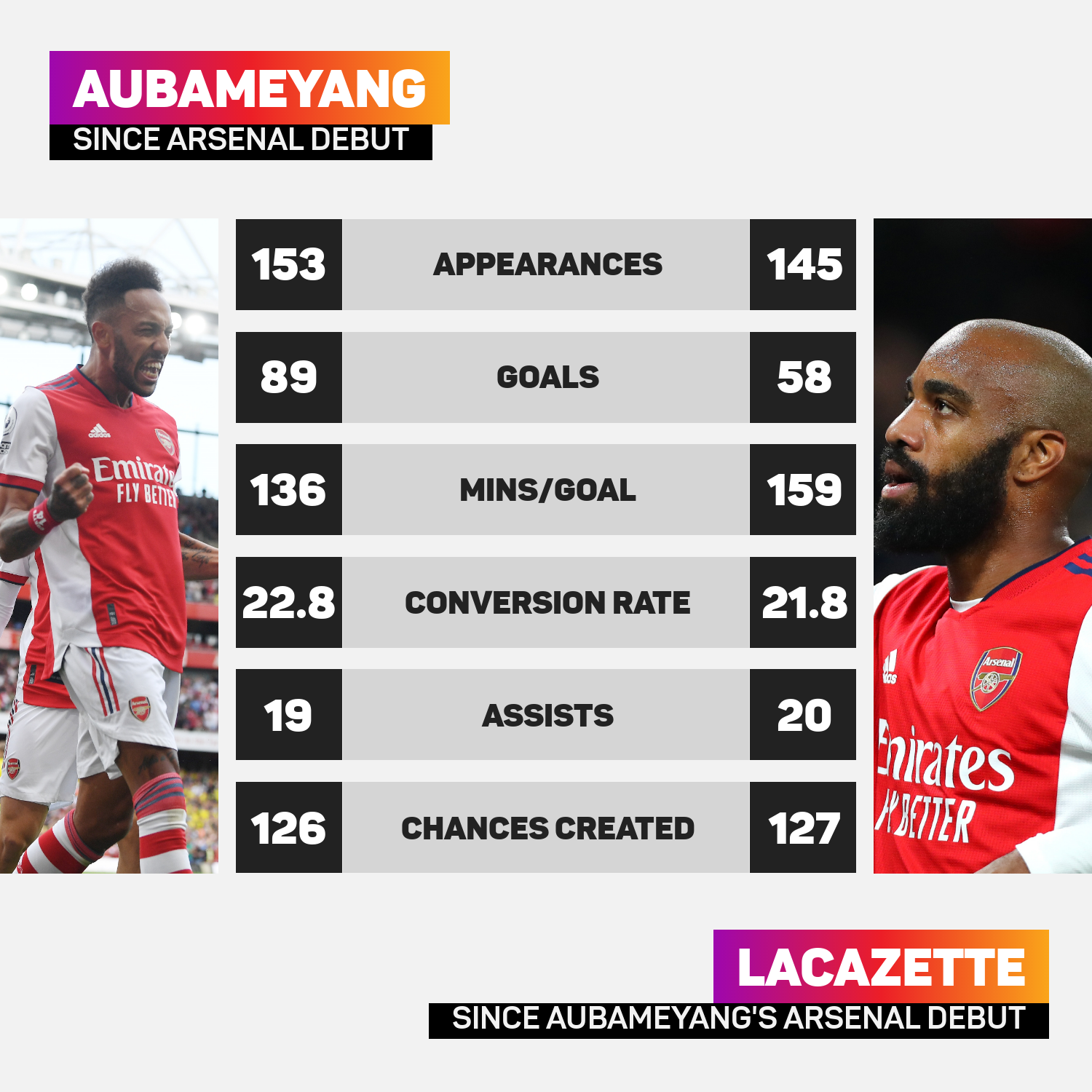 Arteta not helping?
Both Emery and successor Mikel Arteta wanted to develop a style that focused on playing out from the back, though given pace is Aubameyang's main asset, it would seem a direct approach may well be the optimal way to get the best out of the attacker.
Arguably Arteta's best games as Arsenal boss came in the 2019-20 FA Cup semi-final and final, with Aubameyang scoring a double in both matches to help the Gunners claim the trophy.
Aubameyang's pace was crucial, with his second goal in the 2-0 semi-final win over City coming at the culmination of a run from the left, the forward latching onto Kieran Tierney's ball before finishing under Ederson.
A similar trend followed in the final – Aubameyang winning a penalty by isolating Cesar Azpilicueta in that left channel, and he converted from 12 yards to restore parity before finishing deftly for a second-half winner.
The coolest man at Wembley #HeadsUpFACupFinal | @EmiratesFACup pic.twitter.com/0SUpDfbiRT

— Arsenal (@Arsenal) August 1, 2020
It seemed Arteta was utilising this tactic more in his first half-season in charge. In a campaign shared between Emery and Arteta, Aubameyang had seven shots from fast breaks in the Premier League, though he only scored one. He had five such attempts the previous season, though only managed three across 2020-21.
Aubameyang also saw his touches in the opposition box drop off significantly last term, from 152 in 2019-20 to 125, while he had 149 in Emery's only full season in charge.
The amount of shots Aubameyang is taking has also dropped from season to season, from 94 under Emery, to 93 the following campaign, to just 57 last term.
While he outperformed his expected goals value (14.75) by some way in 2019-20, suggesting he finished some difficult chances, an xG of 10.22 last season seemingly reflects where Aubameyang is at.
However, a 7.81 xG on target (xGOT) score, which rates the level of his shooting rather than the quality of the chances, hints the former Saint-Etienne man's finishes were not the best, and may suggest some poor goalkeeping contributed to his league total. Compare this to 2019-20, when Aubameyang's xGOT outperformed his xG value, and it points to a striker on the wane, who is perhaps not being helped by slower build-up play.
Sunday's match could be crucial for Arteta, whose team have finally picked up victories after heading into the international break at the bottom of the table. For Aubameyang, it is a chance to prove he still belongs among the league's elite strikers.