Ole Gunnar Solskjaer has commanded Manchester United to douse the blazing brilliance of Liverpool's "on-fire" forward Mohamed Salah.
The United manager knows Salah is capable of turning up at Old Trafford on Sunday and making a game-winning contribution, after scoring 12 goals in 11 games this season.
Six of those goals have come in Salah's last four games, including Champions League doubles against Porto and Atletico Madrid, and the Egypt international has only failed to net in one game this term: the 2-0 win over Burnley in August.
Although Solskjaer said he would side with Cristiano Ronaldo in any debate about who is the best player in the world, his admiration for Salah shone through.
"I'll always back Cristiano in any competition. He's unique and his goalscoring record has been fantastic and he keeps on scoring," Solskjaer said.
"But that being said, Salah at the moment is on fire. You've seen some of the goals he's scored lately. We know we need to be at our best to defend against him.
"Players like this don't come around very often and we've got to enjoy them when we watch them – from afar, not on Sunday, that's too close for me."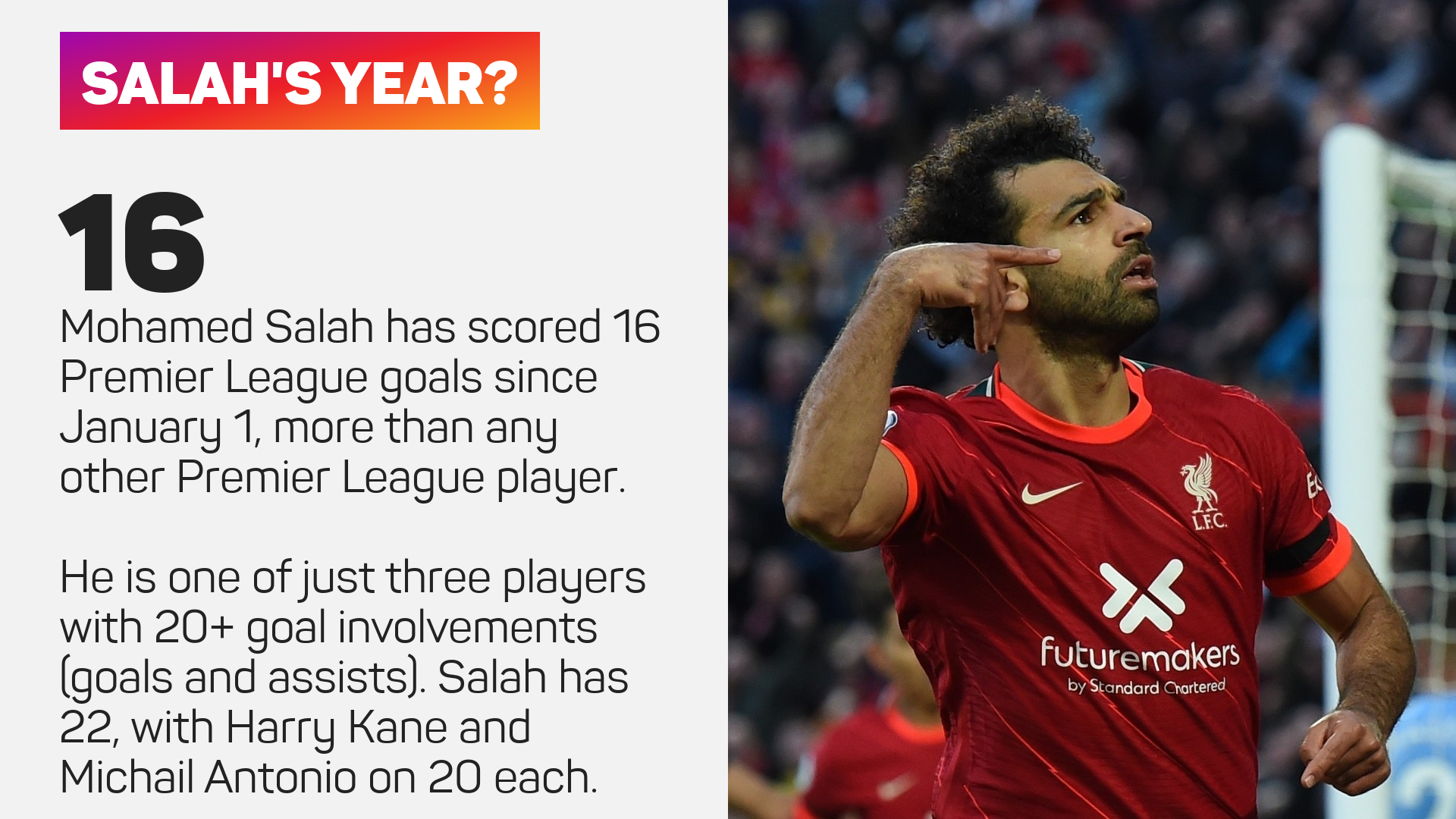 Wonder strikes against Manchester City and Watford in Liverpool's last two Premier League games have illustrated how well Salah is performing, and he sits alongside Jamie Vardy on seven goals at the top of the Premier League scoring chart.
Along with those goals in Europe, that lift him into double figures, Salah has found a consistency this season that makes him Liverpool's number one threat.
"So we've got to do a good job, but not just against him," Solskjaer said. "I'm a big admirer of the frontline they've had for many, many years now, with [Sadio] Mane and [Roberto] Firmino. Maybe [Diogo] Jota will play, who knows?
"They're players you have to focus on and you've got to be nailed on for 95 minutes to keep a clean sheet.
"When you play against a team at the level of Liverpool at the moment, they're on a great run of form, with some individuals' skills that you cannot almost defend against. But as a team we need to be compact, we need to be aggressive, we need to go out there and give every drop of nous and knowledge, strong mindset and physical energy.
"It's going to take everything to get results against the best teams in Europe and the world, and Liverpool are one of them at the moment."
Salah scored three goals in his two away games against United last season, netting twice in a 3-2 FA Cup defeat before hitting the fourth as Liverpool won 4-2 in the Premier League.
No Liverpool player has ever scored in three consecutive away games against United, while the Merseyside giants have not earned consecutive league wins at Old Trafford since January 2002.
Should Jurgen Klopp's men follow up last season's Premier League success at United with another victory, they would hold a seven-point cushion over their great rivals.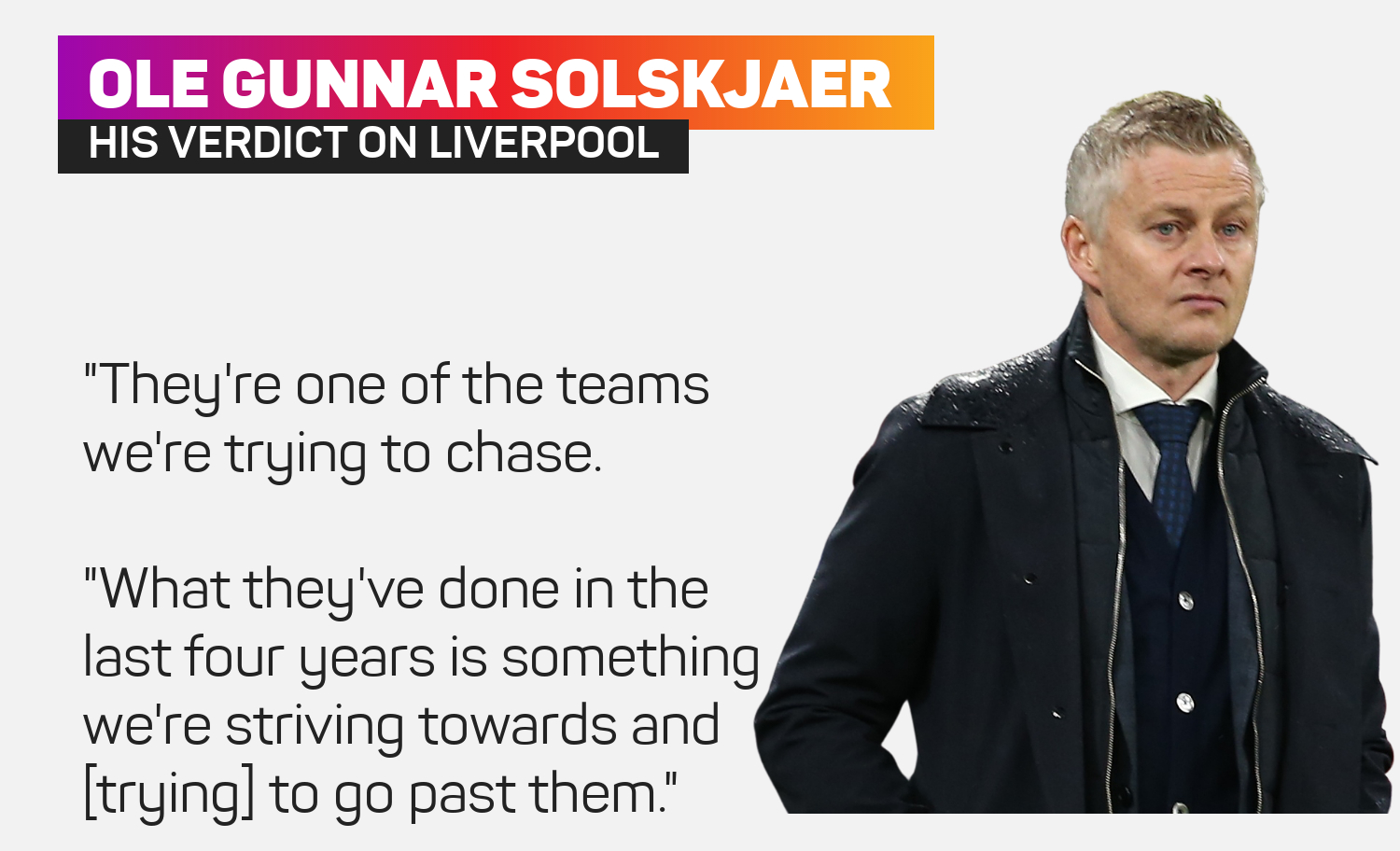 United have a disappointing recent record in league games against Liverpool, winning just one of their previous 10 encounters. This game has often failed to live up to expectations in recent seasons, with six of the last 10 ending in draws, and Liverpool coming out on top in the other three.
Solskjaer said he hoped the 3-2 win over Atalanta on Wednesday signalled "the end of a bad period for us" and that it might be "the start of something big". That is bold talk, given United have lost three of their last four domestic games, including a 4-2 setback at Leicester City last Saturday.
Liverpool are unbeaten in 18 in the Premier League, with the turmoil that plagued them at the start of the year banished and replaced by an optimism they can challenge for a second title in three years.
United are without a clean sheet in any of their last nine home league matches, their longest such run since a run of 10 between September 1970 and February 1971.
Although United finished ahead of Liverpool last season, Solskjaer was realistic enough to recognise it was injury chaos in the Anfield ranks that blunted the 2020-21 challenge from Klopp's men, with the likes of Virgil van Dijk and Joe Gomez sitting out most of the season.
"They're one of the teams we're trying to chase. What they've done in the last four years is something we're striving towards and [trying] to go past them," Solskjaer said.
"We ended above them last season, they had a very bad spell of injuries, so now they're back to their best."