Jurgen Klopp described Diogo Jota as "an incredible package" as the Liverpool striker prepares for a birthday return to Wolves.
Portugal international Jota was acquired by Liverpool in a deal worth up to £45million in September 2020, with his arrival bringing instant competition for Roberto Firmino, Sadio Mane and Mohamed Salah.
Firmino is sidelined for now and in his absence Jota has been enhancing an already strong case to be a preferred pick to the Brazilian, delivering hard-working and goalscoring performances.
As he celebrates his 25th birthday on Saturday, Jota will be back at Molineux with Liverpool, facing the club where he made his name in the Premier League.
Jota has already been back once to his old stomping ground, scoring the only goal as Liverpool won 1-0 at Wolves back in March.
After hitting nine goals already this season, Jota will fancy inflicting another blow on his former employers. He and Mane are both one away from double figures for the campaign, while Salah is one shy of reaching the 20 mark already.
Jota leads the way among Liverpool's forwards for ball recoveries (50), managing marginally more than Salah (49) and Mane (48) despite playing fewer minutes (Jota - 1,205; Mane - 1,457; Salah - 1,661). This is also an area where Firmino excels (29 recoveries in 515 minutes), with Klopp demanding hard work from his front players.
Asked about Jota in a news conference on Friday, Liverpool manager Klopp said: "He's an incredible package. From a personality point of view, he's a really incredible boy, really smart, really organised.
"I remember when I saw him for the first time, I thought he could be a player for me. The intensity he puts in makes a real difference, because at our level all the players are technically of incredible quality.
"You can make a difference with your attitude. That's what I was most excited about with Diogo."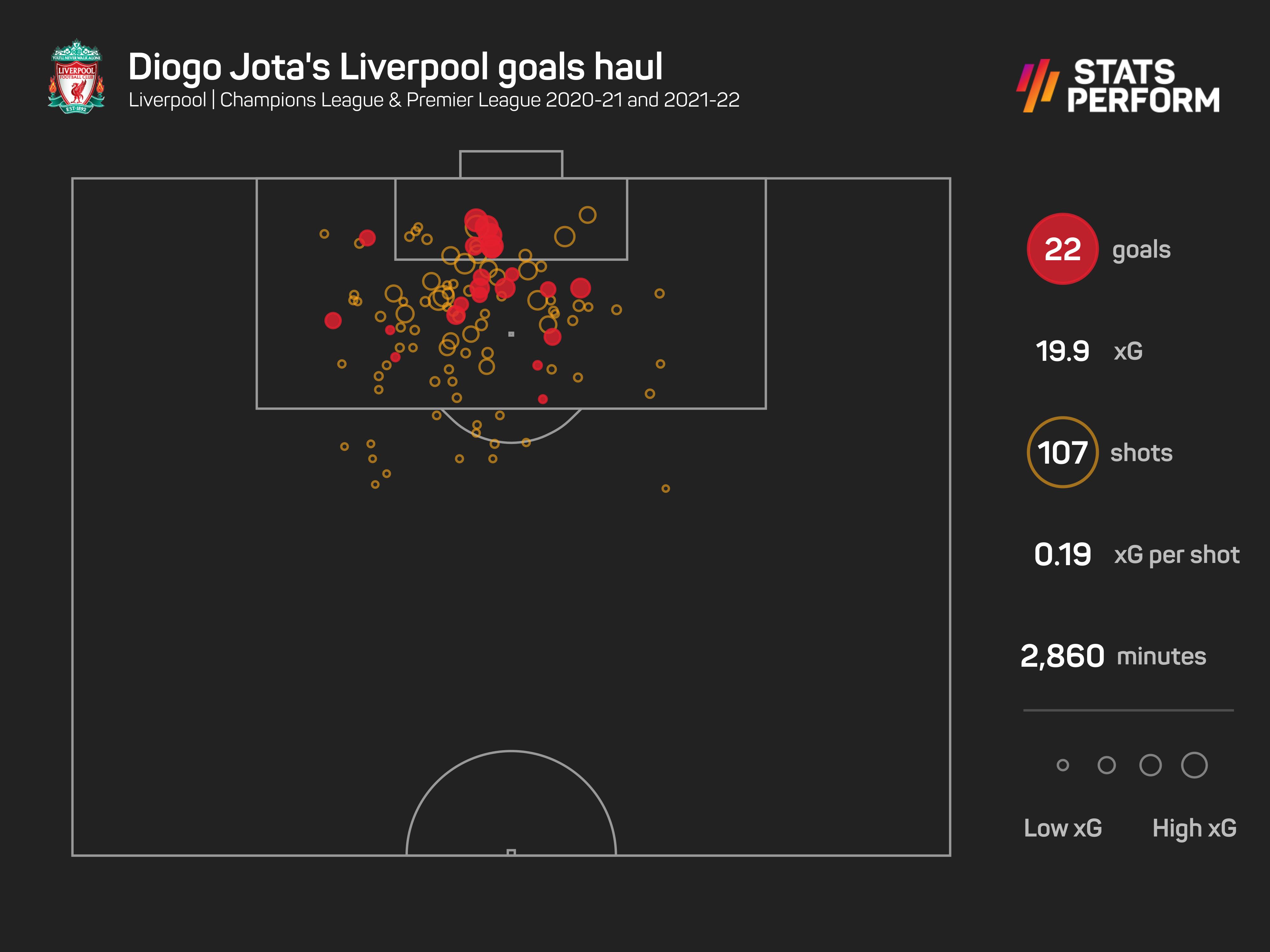 Jota hit 13 goals in 42 games in his final year at Wolves, then repeated that haul in just 30 games for Liverpool last season.
He is firmly on course to beat that total this term, and after accumulating his 2019-20 haul for Wolves at an average of one goal every 205.4 minutes, Jota has gone from netting at a rate of one every 135.6 minutes last season to one per 133.9 minutes in 2021-22.
Klopp was always sure being a prolific goalscorer was in Jota's armoury, with Raul Jimenez having been the focal point of Wolves' attack and the Portugal international deployed in a wider role during their time as team-mates.
"People will say he didn't score an awful lot of goals," Klopp said of Jota, "but the problem is Wolves had probably the most intense style of play for wingers.
"He was very young then. For us, it was clear he would make the next steps with us and that's what he did."