Oliver Glasner is disappointed to see Filip Kostic leave Eintracht Frankfurt, but is happy that the Juventus-bound winger will leave the club a hero.
Kostic looks set to have played his last match for Frankfurt, with the versatile winger having been left out of the Bundesliga side's squad to face Real Madrid in the Super Cup on Wednesday.
Since he signed for Frankfurt from Hamburg in 2018, Kostic has played more games (167) and started more matches (161) than any other player for the club in all competitions.
His 30 goals trails only Andre Silva (45) and Luka Jovic (31), while he is way clear in terms of assists (56) and chances created (420), with 269 of them coming from open play.
Indeed, Kostic's tally of 1,702 passes played into the opposition's box, including crosses, is almost 1,300 more than second-best Daichi Kamada.
Glasner knows Kostic, who has excelled as a wing-back, will be a huge miss as he explained why he feels the move is bittersweet.
"Today it's as if I'm laughing and crying," Glasner told a news conference at Helsinki's Olympic Stadium. "Filip left his mark on our attack, it's never nice to lose such a player.
"It definitely weakens us, but I also have this laugh, thinking about how the season started last year with Filip when he went on strike and didn't want to play.
"I had a lot of conversations with him about playing 100 per cent for the team. I asked him that when he left Frankfurt, to please leave as a hero, and now he's leaving as a hero, he was the player of the year and he won the Europa League. I'm really happy for him, but yes it's sad [that he is leaving]."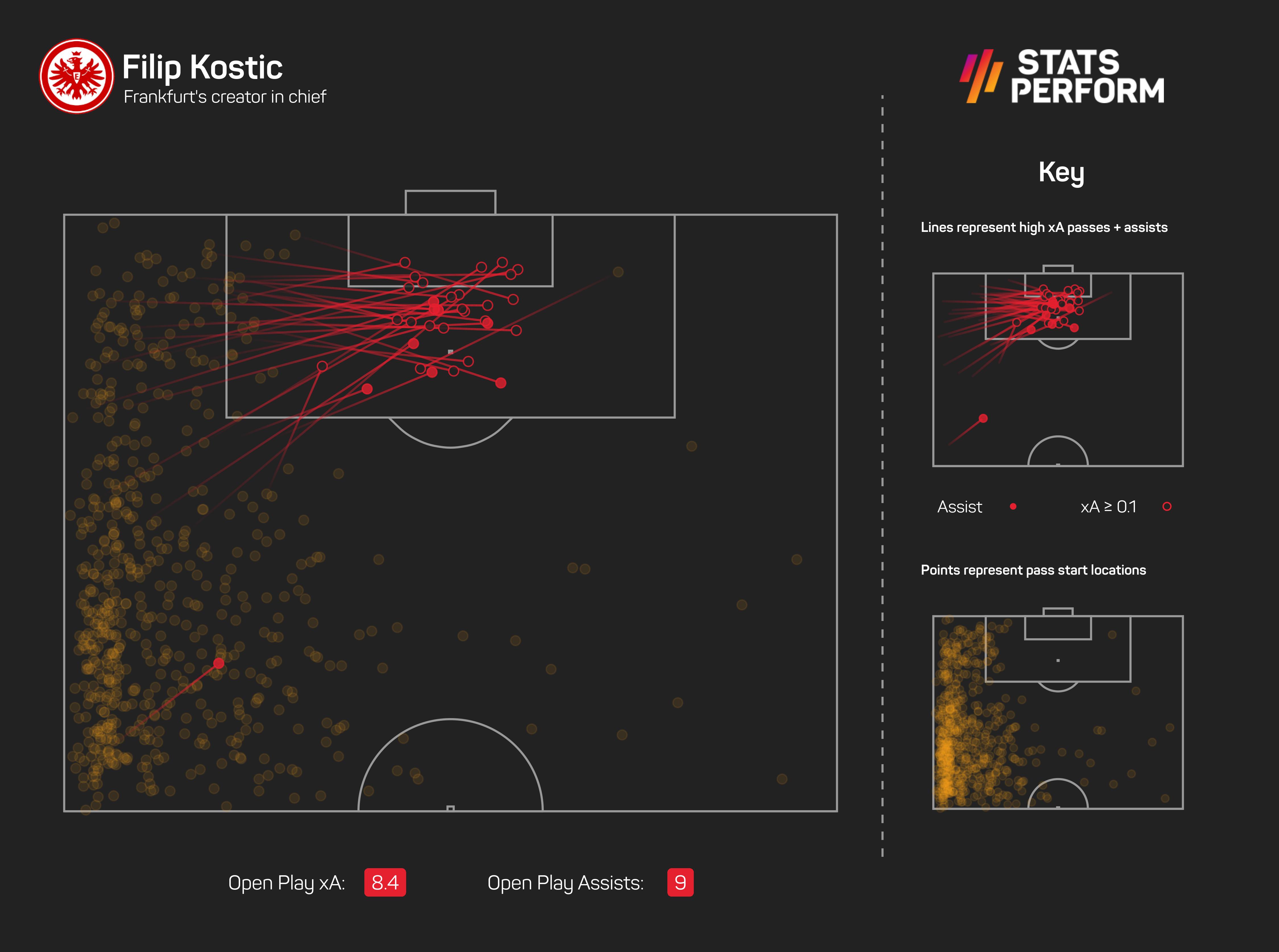 Glasner acknowledged he was surprised at how swiftly Kostic's move, which has been speculated on for weeks, transpired between Frankfurt's 6-1 defeat to Bayern Munich on Saturday and Wednesday's encounter with Champions League winners Madrid.
As such, he suggested Frankfurt's system will not change for upcoming games, but that it may be open to tweaks over the coming weeks.
"[On Monday] it became more and more clear that Filip could leave. You won't see a big system change [against Madrid] but it is possible we change things in the next weeks or months, that is the job of the coach, to find the best system," he added.
"I didn't maybe expect it to be so quick. I had a feeling, even after the Bayern match, that he would play. Well, this dream was broken.
"But every time someone leaves it's an opportunity and I prefer to see the opportunities, not what is missing. It will be an opportunity for other players. It's not like it's a complete shock, the club is prepared and the transfer window is still open."
Goalkeeper Kevin Trapp echoed Glasner's sentiment, but was confident his team-mates have not been shaken by Kostic's departure.
Trapp said: "The topic of Filip, we've had it every year at the beginning of the season. It's sad, Filip did something historic for the club, did a lot with the club, he's leaving as a hero who was a big part of this achievement.
"But it's part of football, part of businesses. We have a team capable of showing good performances without Filip, but it's nothing that shocked us or has shaken us after the speculation of the last weeks. It's a departure that hurts but nothing that will shake us too much."