Eden Hazard accepts Belgium had a better chance of winning the World Cup when their 'golden generation' was at its peak in 2018.
Belgium enjoyed their best World Cup showing four years ago in Russia as they finished third following a 1-0 defeat to eventual winners France in the semi-finals.
But after then losing to Italy in the quarter-finals of Euro 2020, there is a perception Belgium's greatest generation of players has missed its chance of winning a major trophy.
While their squad in Qatar includes many familiar names and several members of the 'golden generation', it is widely accepted most of them are past their best, with the unconvincing 1-0 win over Canada doing little to disprove that notion.
Hazard, who himself is 31 and has had a nightmare with injuries while at Real Madrid over the past three years, is realistic about Belgium's chances, but was keen to remind critics that Roberto Martinez's team still have plenty in their arsenal.
"To be fair, I think we had a better chance four years ago," he told reporters ahead of Belgium's second Group F game against Morocco.
"The team was better four years ago, but we still have the quality to win games, win competitions.
"We have a few guys who are a bit older now but we have experience, we have the best goalkeeper [Thibaut Courtois] in the world, and like I said before, we have one of the best midfields in the world right now, we also have good strikers.
"We are a complete team and I think it's just [we need to show] the desire if we want to win, it's just mentality things.
"We have to enjoy moments, play our game, have fun on the pitch, try to win and then we'll see what happens."
Belgium were roundly criticised for their performance against Canada, particularly after being outplayed in the first half.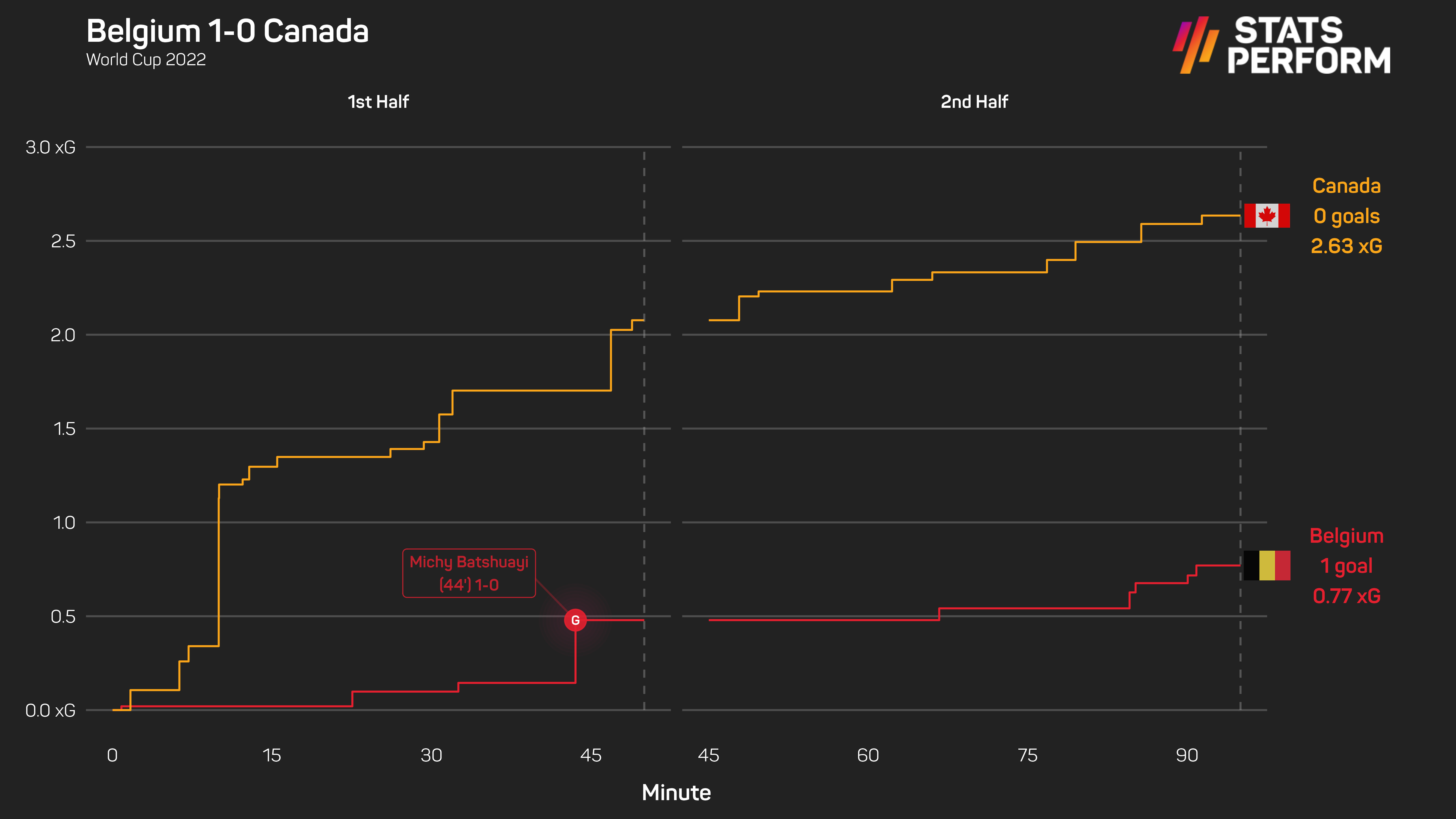 At the end of the game, Canada – who saw an Alphonso Davies penalty saved by Courtois – had accumulated 2.63 expected goals (xG) to Belgium's 0.77, highlighting just how much of a greater threat John Herdman's side carried.
One recurring theme from that match was apparent tension between De Bruyne and Toby Alderweireld, who were involved in on-pitch spats with each other at least twice.
De Bruyne explained after the game that his frustration stemmed from a belief Belgium – and Alderweireld – were looking for the long ball too often, but Martinez was quick to shut down any suggestion of there being a major problem between them.
"We shouldn't try to get an issue where there's no issue," he added. "You've got two experienced players, they've played – if I'm not wrong – over 70 games together for the national team.
"This is not a young player coming into the team, I think there's a real understanding as a team you need to find what the opponent gives you and at times you play through the lines with pressure, sometimes there's spaces in behind, making the right decisions, and when you do that it's important because you need to react as a team.
"There's no issue there, they're two players who are winners and they want to perform well and they take responsibility, as a team that's where we're working.
"We need to know when we're doing one aspect and when doing the other we do as a team, but it's not an issue at all."