Thomas Tuchel saw his tactical switch fail as Chelsea lost 1-0 at home to Manchester City in the Premier League, and he admitted: "Maybe this is on me."
Chelsea's unbeaten start to the season ended at Stamford Bridge, where Gabriel Jesus struck early in the second half to make the difference.
Head coach Tuchel sent out Chelsea with three defensive midfielders and lined up Romelu Lukaku alongside Timo Werner from the start of a game for the first time in attack.
With three centre-backs and defenders running the flanks, it meant Chelsea were found wanting when it came to creativity, as City took revenge for their defeat to Tuchel's men in May's Champions League final.
"We lost the game and I think City deserved to win," Tuchel told BT Sport.
"Until the goal, we were very, very strong in the last 20 metres of the field [Chelsea's defensive area], but only there unfortunately, and in the 80 metres left we were not good enough to escape pressure, to have ball possession, and not only ball possession to breathe but ball possession to switch play and to hurt them and to grow in confidence.
"Until then, we defended very well the box and the goal, it was excellent, but this was the only part of the match.
"The performance was not complex enough, it was overall not on our very best level, and you need your best level to push a game like this to your side."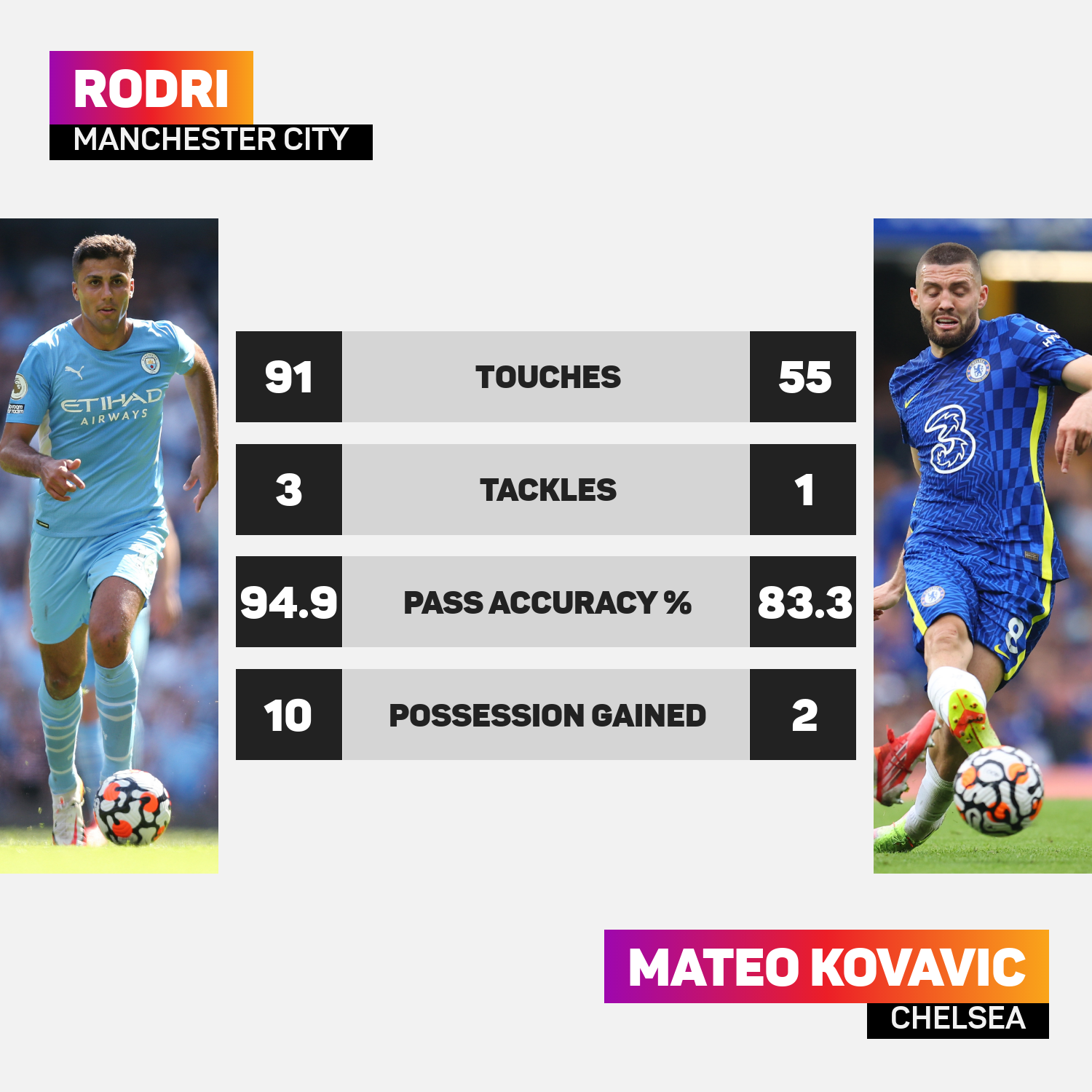 Chelsea had only 40 per cent of the ball, but that was also the case in the Champions League final where they made better use of their possession, showing a greater incisiveness.
Rodri's inclusion allowed City's creative players to rampage at times, as his defensive qualities helped to shield a defence who encountered few midfield runners.
Chelsea had goalkeeper Edouard Mendy for keeping the score down, as he pulled off two big saves to deny Jack Grealish.
Former Manchester United and England defender Rio Ferdinand, working as a television pundit at the game, described the result as "a 1-0 beating".
"Chelsea didn't at any time look part of the game, look like a team who could get anything out of it," Ferdinand said.
"City dominated in all areas: the intensity, the press, the possession, the chances on goal. If Mendy doesn't play today, they [Chelsea] probably concede three or four."
Tuchel also recognised his Chelsea side got what they deserved.
"In general, we can accept it because it was not our best game," Tuchel said of the defeat.
"Even if we wanted to go for long balls for Romelu, it was not precise enough. I did not feel the belief that we could really escape with short balls, I did not really feel 100 per cent the belief that if we play long balls that we believe in it.
"We lacked a little bit of freshness and energy. Maybe this is on me, maybe not the very best choices today, but OK."