It was almost as though Thomas Tuchel was trolling Pep Guardiola, picking three defensive midfielders and two strikers. 
Guardiola had paid a high price for leaving his water carriers out of May's Champions League final battle between these teams. On Friday, he pointedly stressed he would not complain about his squad, yet also acknowledged City lacked a lethal finisher in the mould of a Romelu Lukaku. 
But this was a day when Guardiola resoundingly won the tactical battle, inflicting a first defeat of the season on Tuchel's Chelsea, ending City's sequence of three successive defeats to the men in royal blue. 
Chelsea had last enjoyed a longer run of wins against City when they strung eight together from December 2005 to March 2009, the balance of power in English football being very different in that period. 
Now City are champions of the Premier League and have been so five times in the last 10 seasons, and, A-list striker or no A-list striker, they might just pull it off again. 
Tuchel put an inordinate level of trust in the Lukaku and Timo Werner frontline combination working, as they began a game together for the first time. That smacked of cavalier coaching, an uncalled-for tactical shift in the biggest match of Chelsea's season so far, disrupting the system that last week delivered a ruthless 3-0 win at Tottenham. 
By sacrificing a midfield berth, Chelsea could not compete with City in that area, and duly the supply to Lukaku and Werner was hopelessly inadequate. 
And how did the Lukaku-Werner combination work out across the 90 minutes? Werner played one pass that found his new £97.5million team-mate, and Lukaku did not find the German with the ball at all.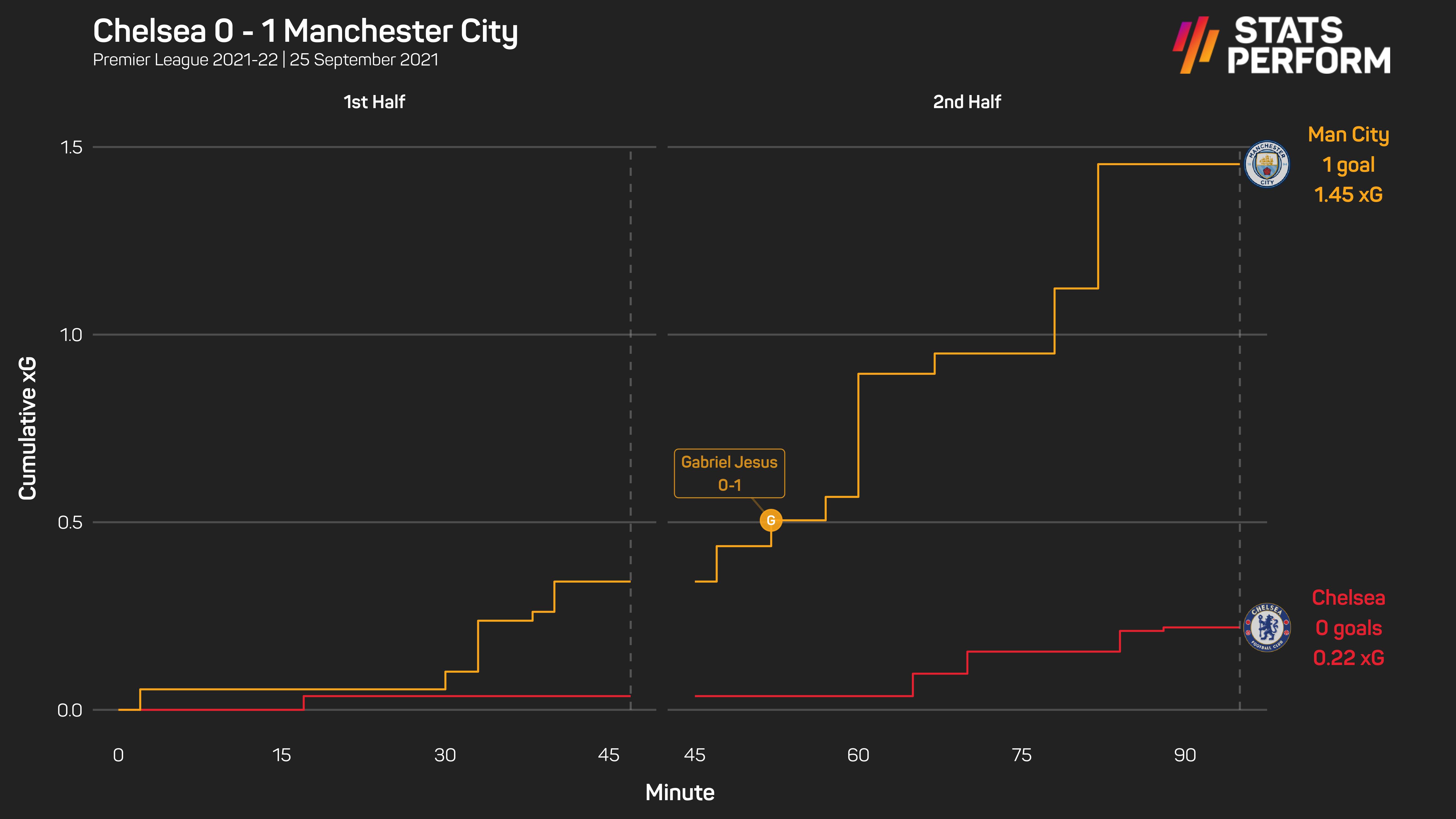 The midfields were silk and sandpaper, City with all the finesse and Chelsea the industry, but whereas City had a little snap too, with Rodri selected in the anchor role, Chelsea were woefully short of invention, utterly reliant on their full-backs pushing forward. They wanted to strong-arm their way to victory, and instead their limitations were laid bare. 
"Champions of Europe, we know what we are", sang the Chelsea fans at kick-off, followed by "Champions of Europe, you'll never sing that". 
Their songs soon fell flat. 
Guardiola left Rodri and Fernandinho out of his Champions League team, when at least one of them had played in 59 of City's 60 games up to that point of the 2020-21 season, and Chelsea got the better of a team lacking its usual steel. 
It was a decision that felt over-thought, Guardiola outwitting himself in his eagerness to surprise Chelsea. But Rodri was back here, helping to shield a defence that might have expected a busier afternoon. 
Of course N'Golo Kante started for Chelsea, after his starring role against City in that European showpiece, but did Chelsea really need both Jorginho and Mateo Kovacic alongside him, leaving Kai Havertz, goal hero of the May final in Porto, and Hakim Ziyech on the bench? No ship requires three active anchors, and their inclusion suggested Tuchel had gone overboard. 
Chelsea had just 33.3 per cent of first-half possession, and that figure was bolstered by them seeing more of the ball in the final 10 minutes, having been under 30 per cent until then. 
City had six shots to Chelsea's one by the break, and the visitors were winning 56.3 per cent of the duels, Rodri finding his man with 41 of 42 passes by the break, also winning possession seven times, more than anyone. 
Come full-time, City led 15-5 on shots, 4-0 on shots on target, Rodri had completed 74 of his 78 passes (94.9 per cent) and finished with a team-high 10 possession wins. His presence was colossal, allowing the likes of Kevin De Bruyne, Jack Grealish and Phil Foden to rampage.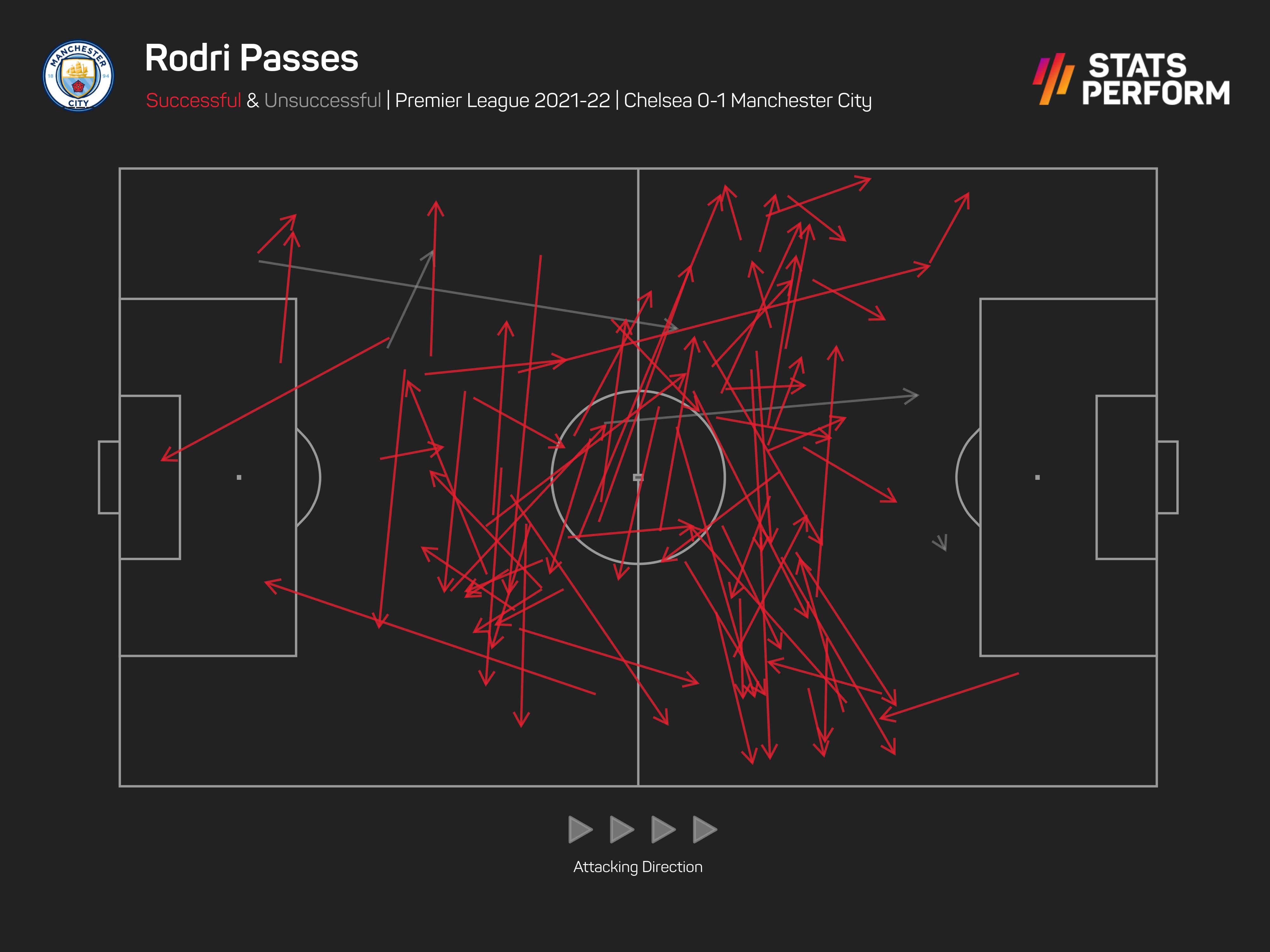 Guardiola said City would "do it as a group" as they aim to come up with the goals a world-class striker might score. He missed out on Harry Kane and Cristiano Ronaldo, but in Gabriel Jesus he has a Brazil international who might just fancy showing his boss he can be a 20-goal hitman again. 
Chelsea were undone in the 53rd minute when Joao Cancelo's shot after a short-corner move only ran as far as Jesus, who turned sharply and fired, with the help of a deflection of Jorginho, into the bottom left corner. 
That was the first shot to hit the target in the match, Opta said, and there was almost a second City goal moments later when Grealish sidestepped Cesar Azpilicueta on the left and curled towards the far post, with Edouard Mendy's fingertips pushing the ball wide for a corner. 
Thiago Silva cleared off the line from Jesus, then Mendy denied Grealish late on as City pushed for the second goal they surely deserved. 
Chelsea had just 39.62 per cent of possession in the Champions League final but dominated the chances there, with an expected goals (xG) total of 1.45 to City's 0.45 reflecting their greater threat in the final third. 
Here, it was City with 1.45 xG against Chelsea's paltry 0.2, Guardiola getting one over the team who have given him plenty of anguish over the years, inflicting eight defeats, more than any other against a Pep side. 
Guardiola's players celebrated with their fans, who included Oasis' Noel Gallagher, tossing shirts into the crowd, knowing this time they and their coach had implemented a master plan.