"I am not a magician," said Carlo Ancelotti. "Just a coach who has to give players the confidence they need to express their qualities."
The Real Madrid boss was talking about arguably the standout player from Los Blancos' strong start to the season – and, brilliant as he continues to be, it's not Karim Benzema.
When Ancelotti spoke before Madrid's 2-1 win at Valencia, Vinicius Junior was on a run of four goals in as many games in LaLiga. That tally reached five in five after he fired in a late equaliser at Mestalla – as many goals as he had scored in 59 previous league matches.
For attacking players, nothing builds belief like the support of a coach and regularly sticking the ball in the net. Vinicius has both of those things going for him right now, and it's yielding the best form of his Madrid career.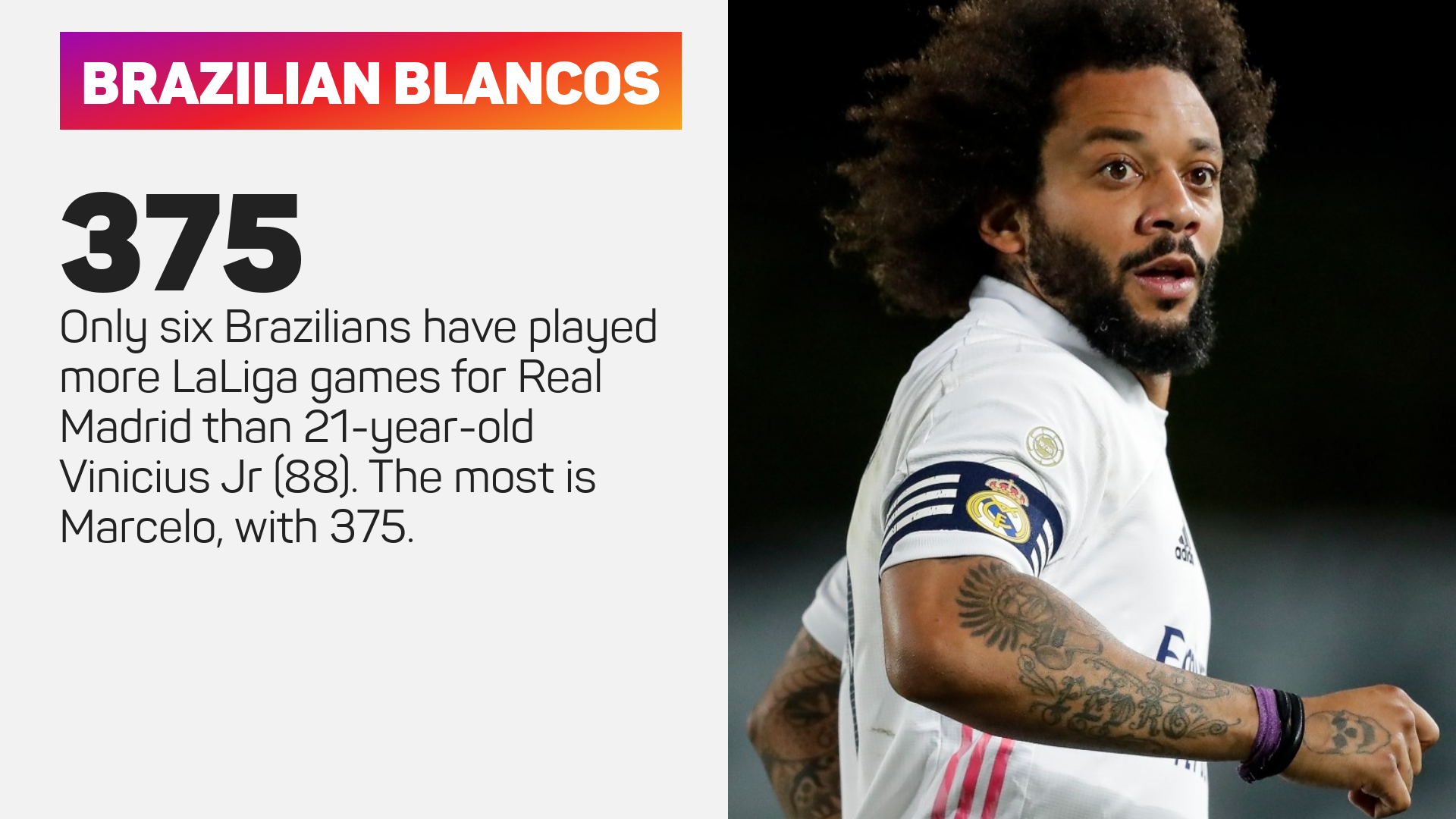 NEW-MAR
Signed amid much fanfare from Flamengo three years ago, it has taken Vinicius time to fully find his feet in the Spanish capital. Patience is notoriously thin on the ground where Madrid are concerned, but fans have been more willing than usual to play the long game with the Brazil international, who has already played 88 times in Spain's top flight, a tally bettered by just six compatriots in the club's history.
Given Marca ran a headline this week asking whether Vinicius' form in 2021-22 meant Madrid had found "the new Neymar" – a player they once wanted to bring back to Spain, no less – it would appear the wait has been worth it.
Along with five goals, Vinicius has provided two assists and created 10 chances this term, all of them from open play. Only Eden Hazard (12) and Karim Benzema (14) have created more among Madrid's squad. Indeed, among players aged 21 and under, only Erling Haaland (seven goals, three assists) has been directly involved in more goals in 2021-22 in Europe's top five leagues.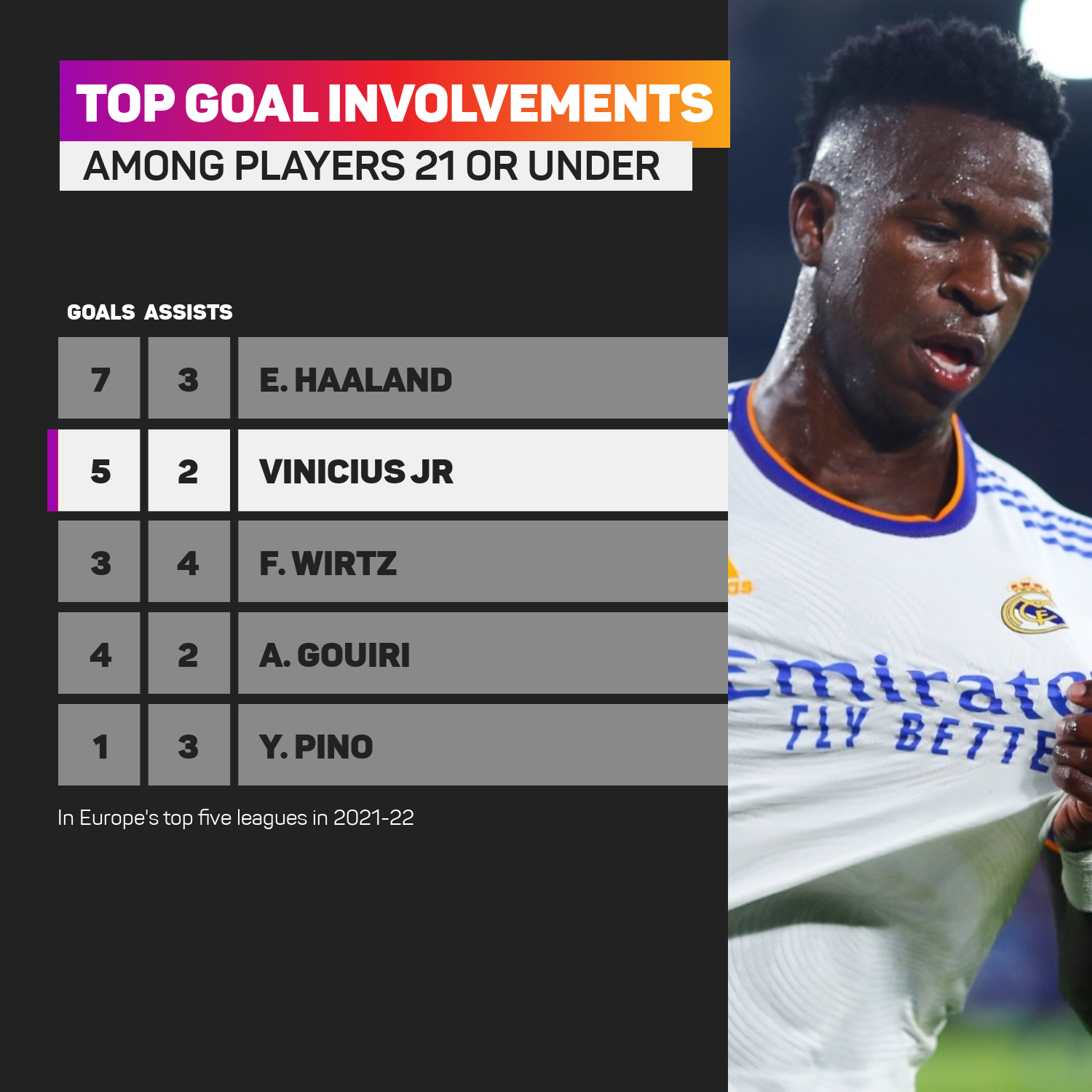 After the first six matches of 2020-21, Vinicius had two goals and zero assists, with three chances created for team-mates. Granted, he had spent 52 fewer minutes on the pitch in those six games than he has this season, but he has undeniably made better use of the time given to him of late.
In the first six games of 2021-22, Vinicius' 17 shots have come amid a 2.64 expected goals (xG) total, but they account for 4.36 expected goals on target (xGOT), giving some indication as to the high quality of his attempts. (The xG metric assesses the quality of chances, and xGOT looks at the player's actual effort at goal.)
By contrast, at the same stage of last season, he had xG of 2.58 but xGOT of just 1.49 from 13 shots.
KYLIAN (IN THE NAME OF)
A strong indicator of Vinicius' form, his willingness to stand up in matches and why those Neymar comparisons are a little closer to the mark than they once were, is the upturn in his impact when running with the ball.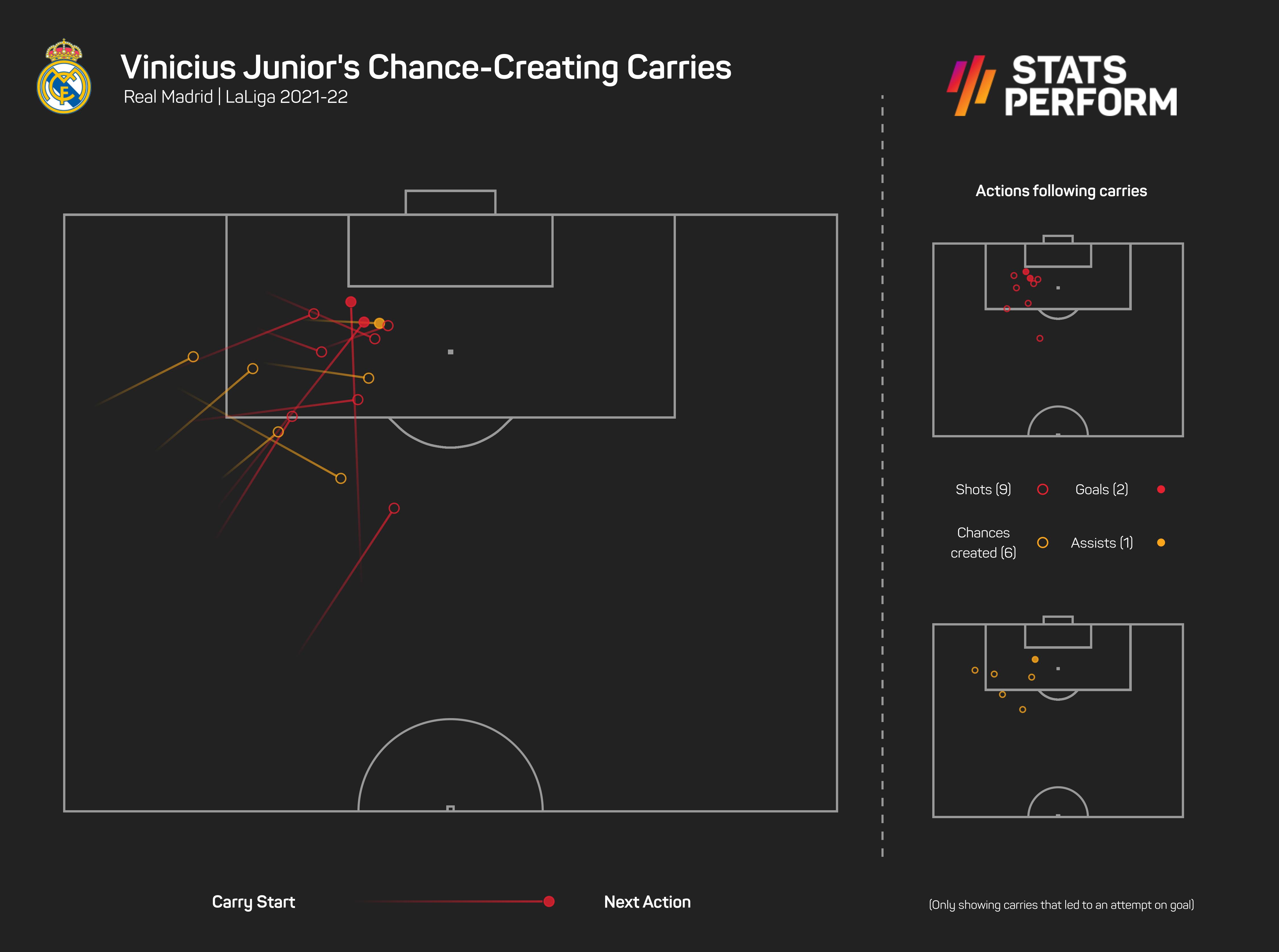 After six games in LaLiga last term, he had completed only five of 17 attempted take-ons. That success rate of 29.4 per cent was the lowest of any Madrid player to complete at least one dribble.
This season, that success rate has jumped to 47.6 per cent, Vinicius having completed 20 of 42 attempted take-ons. These are identical figures to one Kylian Mbappe of Paris Saint-Germain – another Madrid transfer target.
Not only that, but 42 attempted take-ons is the most by any player in LaLiga in 2021-22, while Vinicius also ranks highest for take-ons in the box (eight) and those ending with a shot (four), and joint-highest for drives into the penalty area (also four).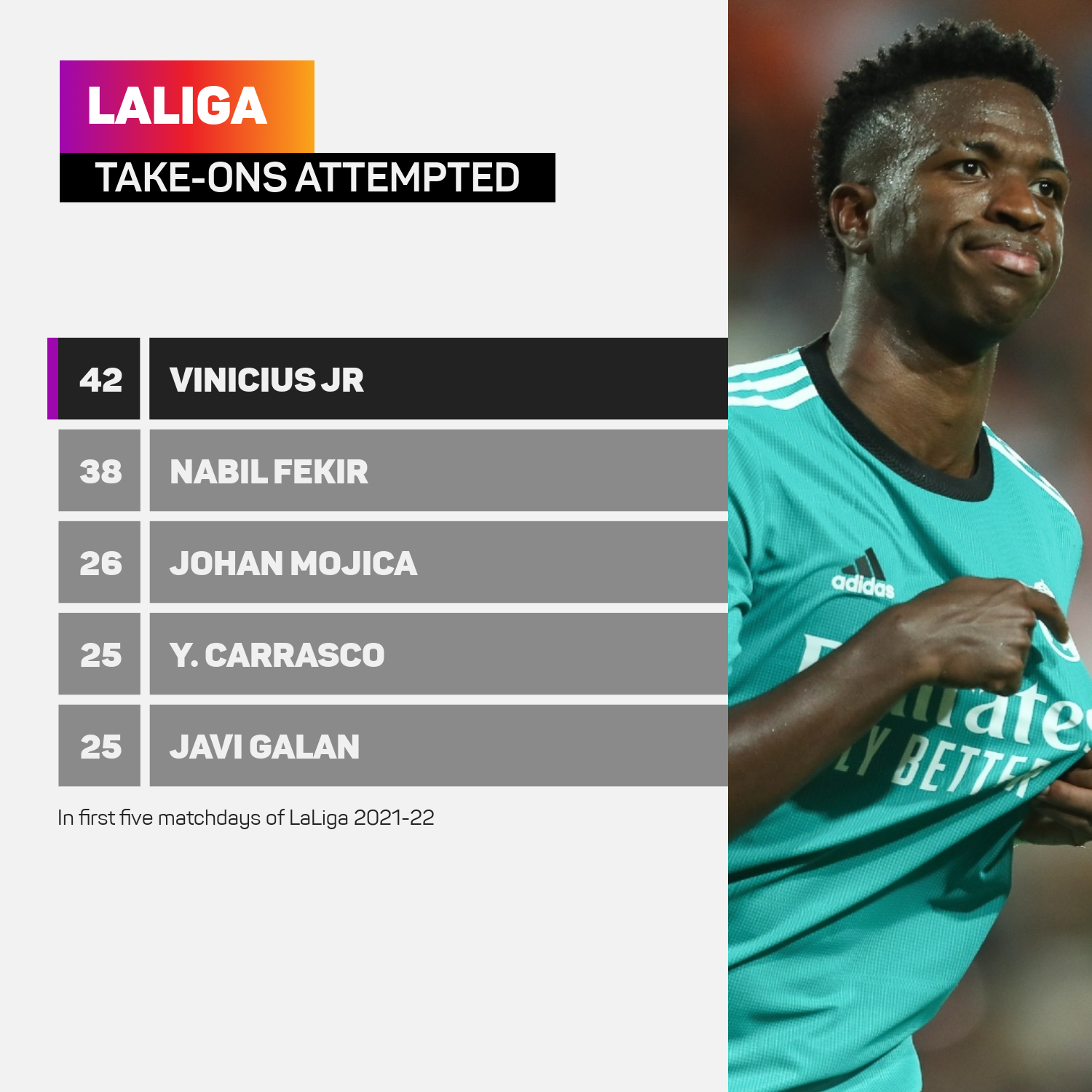 HEARTBEAT
Vinicius is also averaging 62 touches of the ball per 90 minutes, an increase from 57 at this stage of the season in 2020-21. It follows that he is more heavily involved in the action at the top end of the pitch: he has had 36 involvements in shot-ending sequences in LaLiga, a figure bettered only by Real Betis' Nabil Fekir (38) and Madrid's own Benzema (51). On average, his tally has jumped from just over three per game in 2020-21 to more than seven in 2021-22. And, of those sequences this season, 10 have ended in a goal – only Benzema (14) can do better.
This is a player embracing responsibility, demanding the ball, and dazzling when he gets it: in short, he's showing all the best qualities of Neymar, Mbappe or anyone else Madrid may wish to buy, and offering fans everything they hoped for when he first arrived for €46million in 2018.
Perhaps competition is bringing the best out of Vinicius: with Gareth Bale back at the Santiago Bernabeu (although presently injured), Eden Hazard showing more encouraging signs and Marco Asensio fully fit again, there is no shortage of options for the Benzema support act. Or maybe Ancelotti really does have the magic touch to keep Vinicius in vibrant form for a whole season, beyond the fleeting glimpses displayed under Zinedine Zidane.
Whatever the reason, Vinicius has never looked so dangerous in a Madrid shirt. Worryingly for his opponents, there could be plenty more to come.