After nearly two weeks off due to the international break, Premier League football was back this past weekend and it was as intriguing as ever.
A new era began at St James' Park, though the outcome of the match was arguably as familiar as ever for Newcastle United fans, while similar could be said of Watford as they began Claudio Ranieri's tenure by being battered by Liverpool.
That game saw Mohamed Salah spectacularly edge closer to Liverpool history, while their next opponents – bitter rivals Manchester United – continued their dreadful run by conceding four to Leicester City.
But Harry Kane got himself back among the goals and Wolves pulled off what of the most unlikely comebacks the Premier League has seen.
Below, Stats Perform delves into some of the quirky Opta facts from the weekend…
Salah on verge of historic achievement
The early frontrunner for individual end-of-season awards in the Premier League is undoubtedly Salah, who has made a scintillating start to 2021-22.
He somehow reached a new level of spectacular on Saturday in the 5-0 dismantling of Watford, his incredible solo goal showcasing the kind of improbable dribbling one would expect to see in an unrealistic football film or naff television advert – only this was real.
But more than the sheer audacity of the goal, it was the eighth goal in a row that Salah has scored in for Liverpool – not only was that a personal best for him, it equalled a club record set by Daniel Sturridge.
If Salah scores in his next appearance, which will presumably be either against Atletico Madrid on Tuesday or United at the weekend, he will become the first Liverpool player to net in nine successive outings.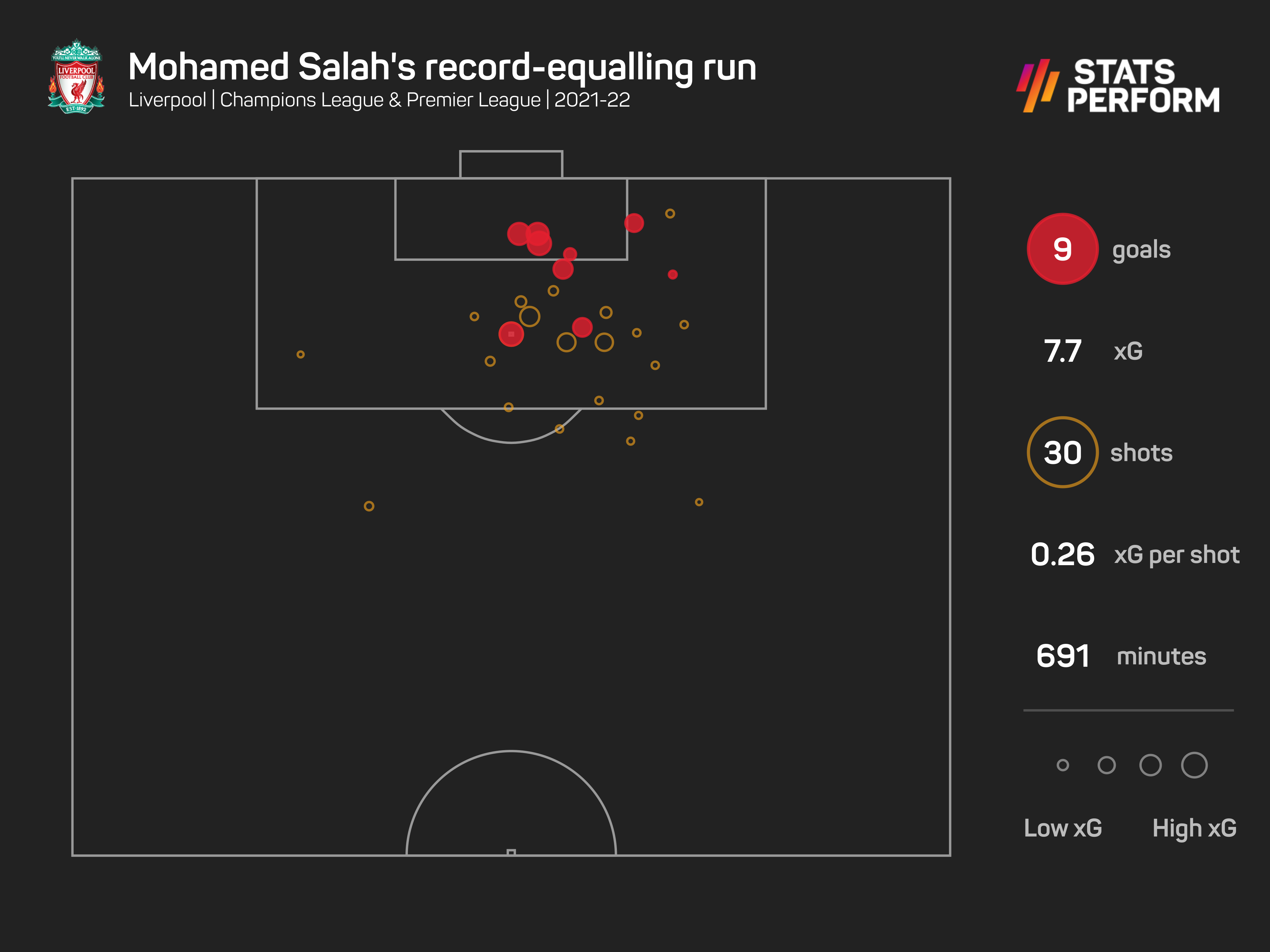 Newcastle, the Premier League's pressing anomaly
Sunday ended up being something of a reality check for Newcastle. While most fans will have turned up to St James' Park with a sense of optimism for the first time in years, all will have left at full-time with the realisation that – Saudi money or not – this is a team that could conceivably be in the Championship next season.
But one area that they are seemingly proving quite efficient is with regards to their pressing leading to goals.
Now, it's worth saying that Newcastle aren't among the most intense teams when it comes to their off-the-ball setup, as their 47 high turnovers is only more than four clubs in the Premier League.
However, three of those situations have led to a goal, which is more than anyone else in the division and speaks to an impressive level of efficiency.
That probably won't come as much of a consolation if they do get relegated, though.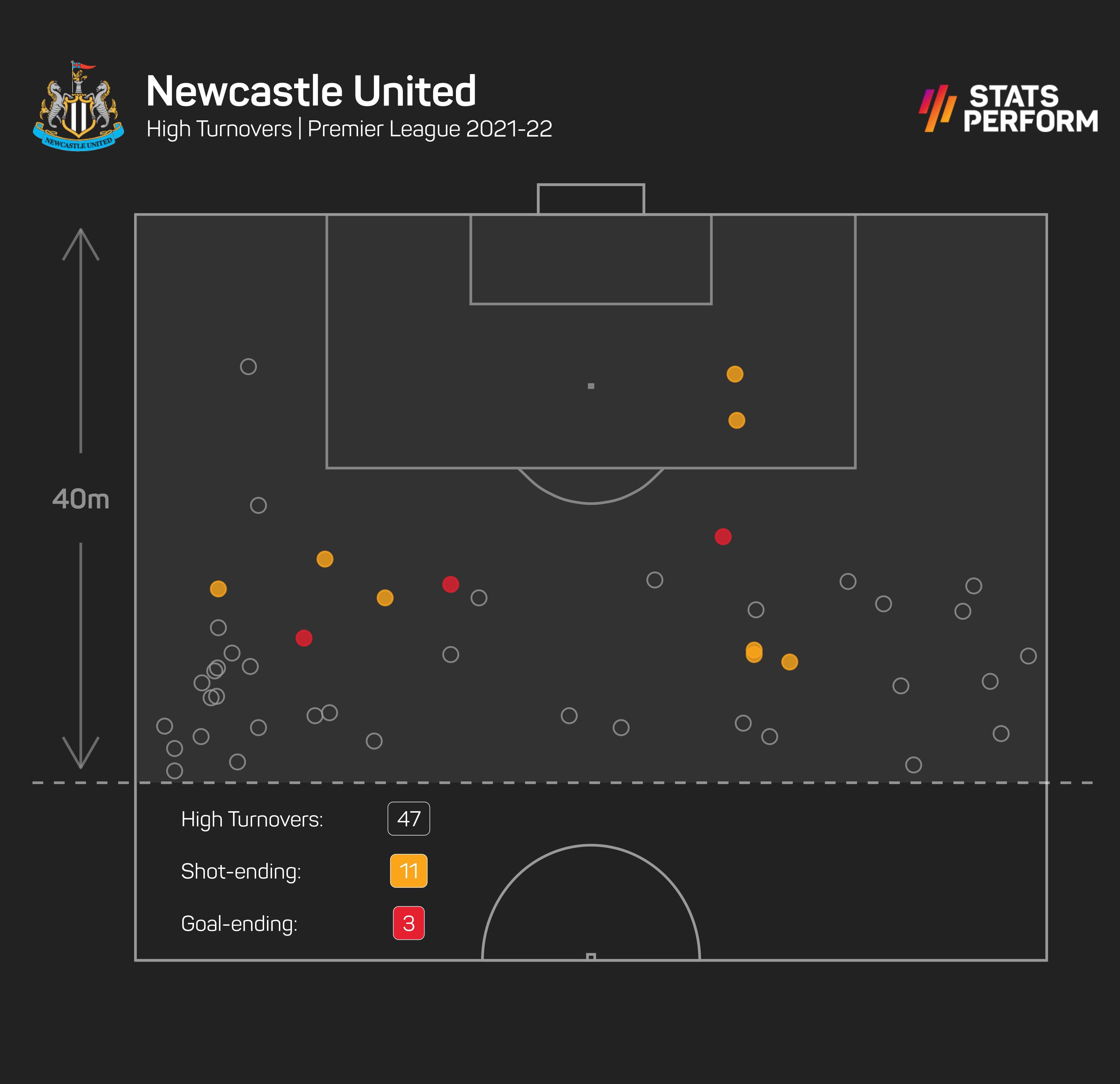 Kane at home on the road
What with all the furore surrounding Newcastle heading into the weekend, Kane's Premier League woes for this season seemed to take a backseat in the build-up.
Whether that played a role in him finally getting his first Premier League goal of the season is impossible to prove, but his clever finish in Spurs' 3-2 win did highlight just how reliable Kane has been as an away striker over the years.
It was his 88th away goal in the competition, taking him past Alan Shearer and to within six of the record holder, Wayne Rooney. But Kane's haul comes from just 128 away games.
Rooney's 94 was from 243 matches on the road, Shearer needed 219 for his total. For Kane to reach such a figure so soon is a truly astonishing accomplishment.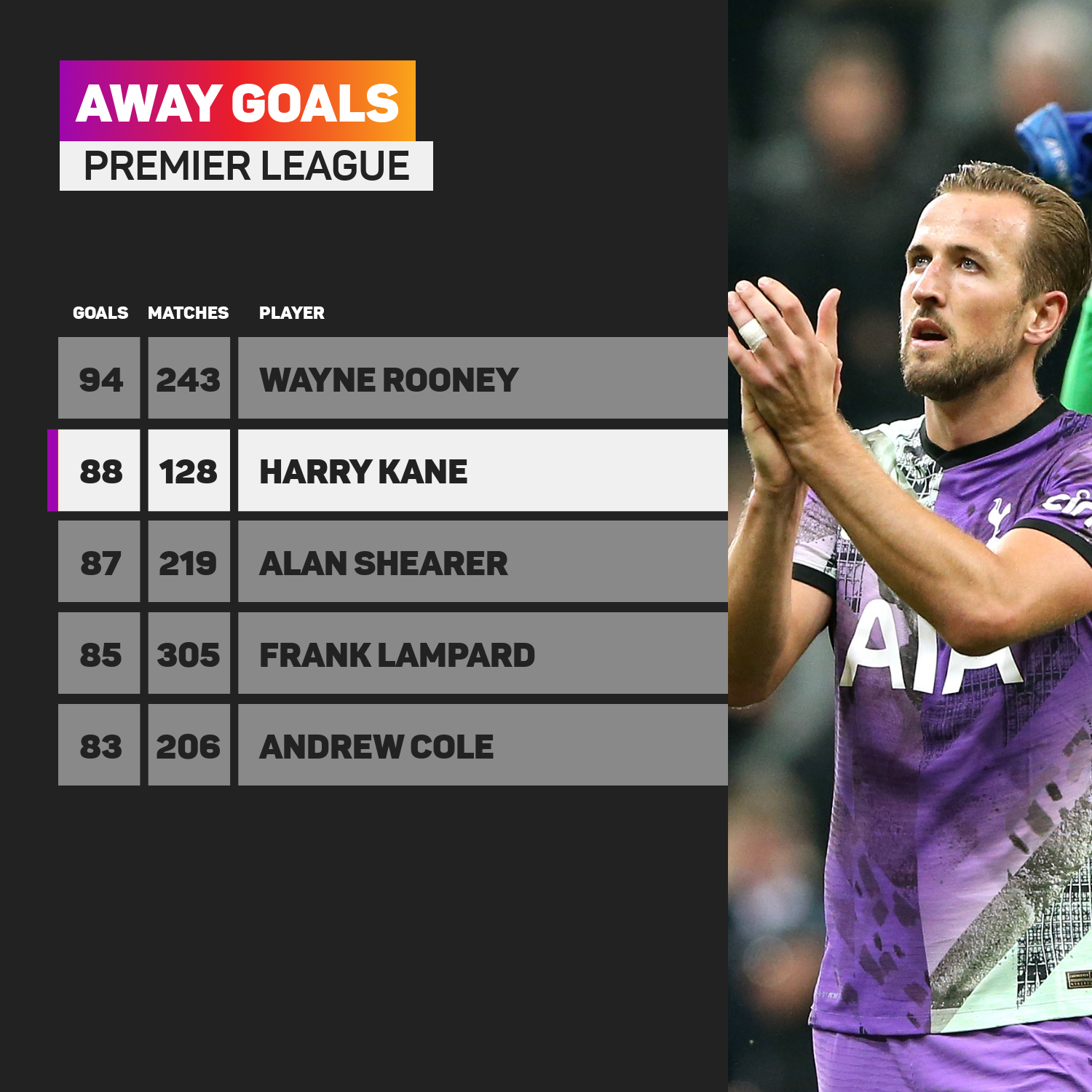 Wolves' turnaround a comeback for the ages
Is there anything in football that matches the sheer joy of a late comeback? You go from being resigned to defeat, then having a little hope and ultimately becoming overwhelmed with emotion as the turnaround is complete. It's a rollercoaster.
Most fans know what it's like to see something similar, but what Wolves supporters witnessed on Saturday was even more remarkable because due to the speed at which everything unfurled.
They were 2-0 down at local rivals Aston Villa in the 80th minute, but then Romain Saiss, Conor Coady and Ruben Neves scored in the final 10 minutes to earn a 3-2 win.
Only once before has a team comeback from two or more goals down later than the 80th minute in the Premier League (Reading against West Brom in 2013), which puts Wolves' feat into historic context.