A big week now approaches for Tottenham – while no manager will ever admit to being happy about losing, Spurs' 2-0 defeat to Chelsea on Sunday may actually do Antonio Conte a favour.
The Italian has hinted at his desire to bring in reinforcements this month. Until this point, Spurs have not given into his apparent demands, but another loss to Chelsea might force their hand.
The last week of the transfer window is about to begin and there is every reason to think it could define Spurs' season given the clues on show at Stamford Bridge.
This contest arguably lacked the usual lustre in the build-up given how recently they tussled in the EFL Cup, a two-legged semi-final that left the two clubs looking worlds apart.
Even Conte himself was damning in his appraisal of their respective outlooks, suggesting there was no comparison between his side and the team that won the Champions League last season.
Chelsea won their EFL Cup tie 3-0 on aggregate, thus Conte knew changes were going to be required here.
He returned to his former club with a plan, but perhaps few expected him to go – for want of a better phrase – 'full Mourinho'.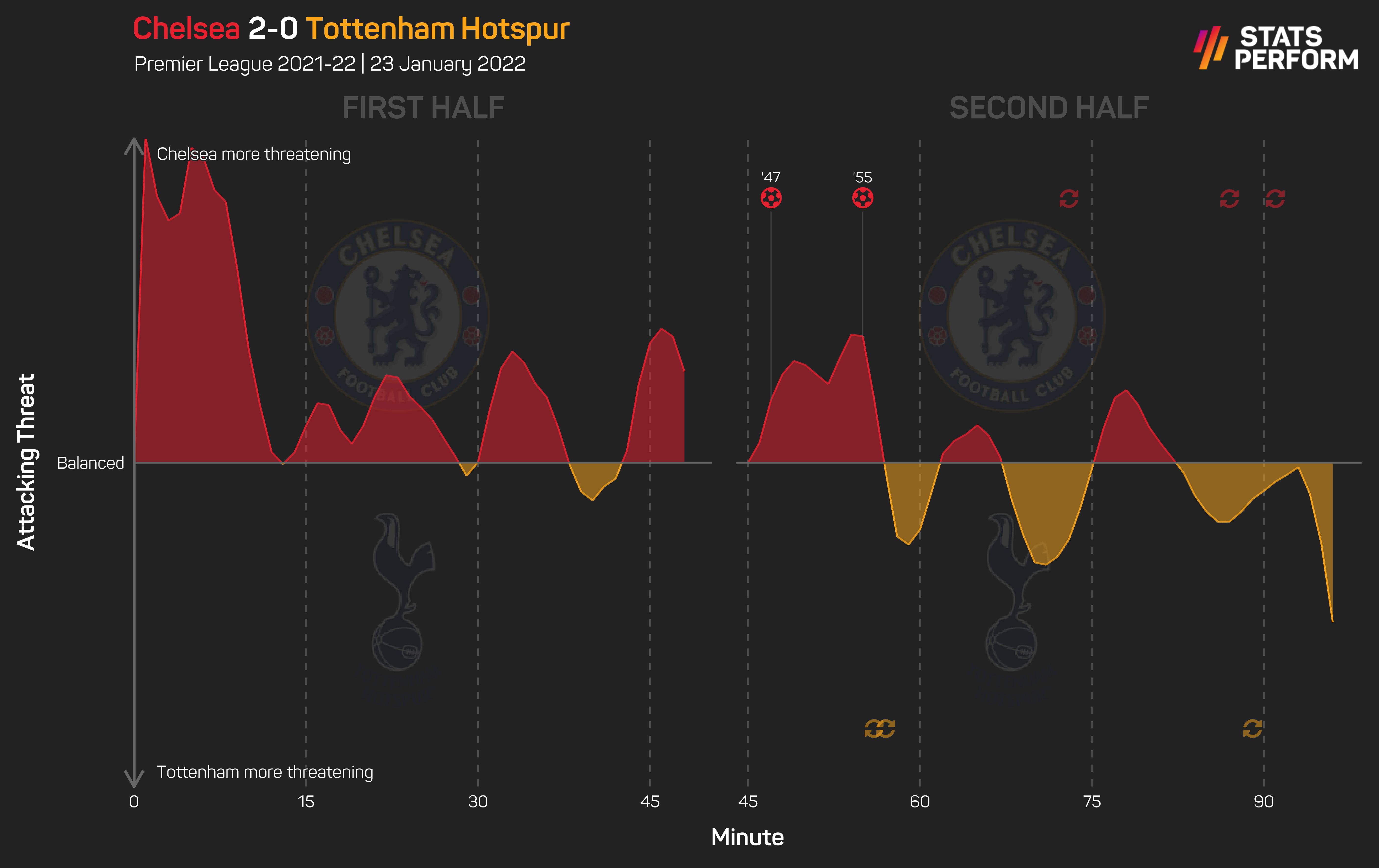 The 'Special One' built much of his reputation on being tough to beat, and Conte certainly made several decisions that were Jose Mourinho-esque, not least the fact he deployed full-backs in front of full-backs on the flank as the Italian seemingly set his side up to be functional rather than entertaining.
That's not to say Chelsea didn't find some joy. Mason Mount proved a nuisance with his movement in the half spaces in attack, with Spurs struggling to pick him up as he seemed to fall outside of the jurisdiction of everyone in defence and midfield.
That was evident as early as the first minute as his cross found Romelu Lukaku, who volleyed over – later, they combined in exactly the same way but the Belgium striker completely missed his kick.
Eventually Spurs reacted to Mount's presence with another Mourinhoism, as Pierre-Emil Hojbjerg slotted in to plug the gap in that area, something Mourinho's central midfielders often used to do in his classic Chelsea sides that went with two banks of four.
With Harry Kane accompanied by Steven Bergwijn in the Lucas Moura role up top, Spurs' grand plan was pretty clear as they hoped to be able to capitalise on any rare forays forward – it looked as though they had as well, with the Dutchman picking out the England captain to net just before half-time, only for the goal to be wiped out for a slight push on Thiago Silva.
But there was seemingly an ulterior motive surrounding Conte's selection and tactics as well, as he appeared to be sending message to sporting director Fabio Paratici.
Three viable and available central attacking players were completely left out, with Dele Alli, Tanguy Ndombele and Giovani Lo Celso all missing – the latter even confirmed on social media that he was fit.
Harvey White, still awaiting his Premier League debut, and Dane Scarlett, a 17-year-old, were selected ahead of them on the bench, with Conte's decisions here a not-so-subtle evaluation of the attacking midfielders available to him.
The fact is, this came just two days after Conte said he hoped "the club will listen to me" regarding their transfer dealings before the end of the month – he didn't reveal what he had put across to his employers, though these exclusions were surely a hint at the very least.
Given the options otherwise available to him – as in the players he trusts in midfield – Conte perhaps didn't actually have much of a choice to deploy this set-up.
But can Spurs realistically hope to qualify for the Champions League with their only trusted central midfielders being Hojbjerg, Harry Winks and Oliver Skipp? You would think not, and certainly not on the evidence of this match, with Spurs barely laying a glove on Chelsea bar the disallowed Kane goal as the hosts were allowed to control the midfield.
Of course, it's worth saying Spurs were also a little unfortunate. Whichever way you look at it, the disallowing of Kane's goal was harsh, and Hakim Ziyech's gorgeous opener was a moment of magic.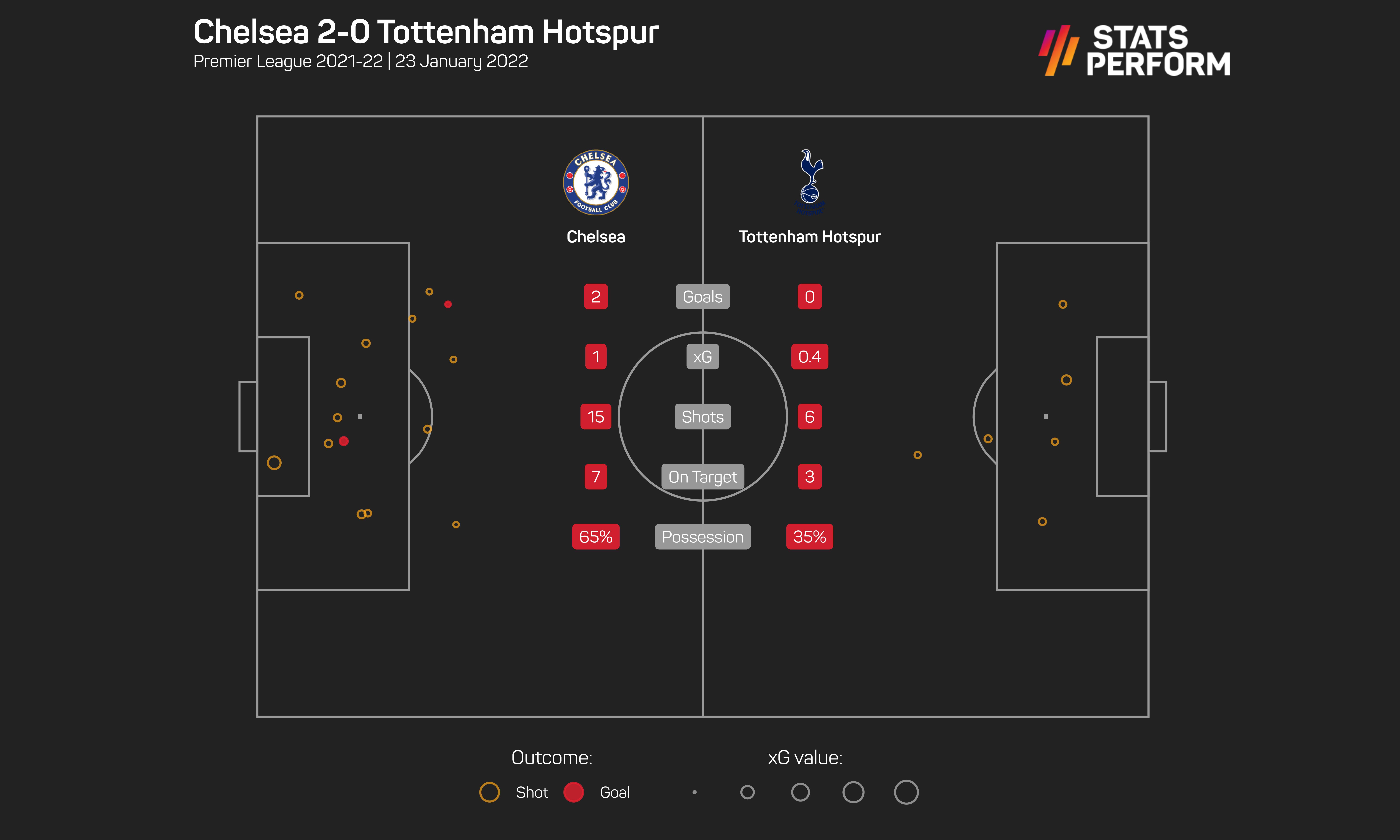 Silva's second was controversial as well because the foul that was awarded from which Mount set up the Brazilian appeared to be questionable.
Yet even if they had still been within touching distance of Chelsea heading into the latter stages, a quick glance at the benches showed an incredible gulf in talent available to the managers.
There's a lot of work to be done with Spurs' squad and the next week could make or break their season.