Andre De Grasse said it was "worth the wait" after finally winning gold at a major international meet with a fine men's 200 metres victory at Tokyo 2020.
Five years ago, the Canadian was hailed as the heir apparent to Usain Bolt after finishing third in the 100m and second in a 200m race where he pushed the Jamaican great all the way at Rio 2016.
An untimely hamstring injury in 2017 denied him one last dance with Bolt at the World Championships in London, while a similar issue plagued him in the 2018 season.
But he was back on the podium with a bronze (100m) and silver (200m) at the 2019 worlds in Doha and, after another third in the shorter distance here at these Games on Sunday, finally made his way to the top of the podium in Canadian-record time of 19.62 seconds.
"Yeah it was worth the wait definitely, I mean going through all the adversity I faced with injuries from 2016 to not being able to step on the track at the World Championships in 2017 then I reinjured my hamstring in 2018 it was really tough for me," he said.
"Luckily I had the support system of my friends, my family and they just told me to keep pushing, to keep going.
"When I was able to get back on the podium in 2019 I was very grateful for that and I knew I could keep getting better.
"For me this is an incredible moment to get my first gold medal, I can't wait to be on the podium tomorrow, have the medal in my hands and hear the national anthem."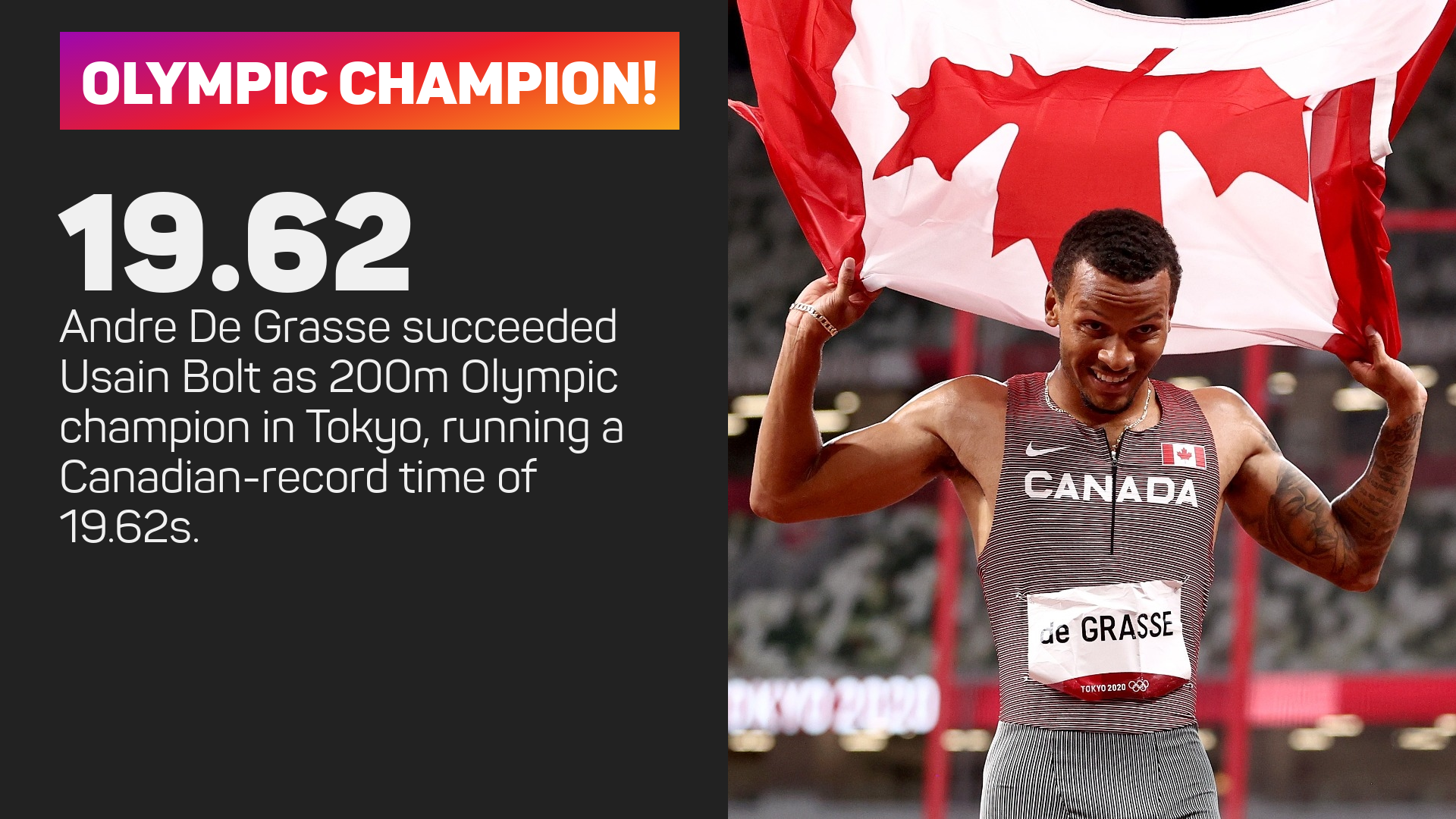 De Grasse felt that his success here owed much to the fact he was fitter than he was in 2016 when going up against the legendary Bolt.
"I remember my previous coach was like you got to try and tire him [Bolt] out for the semis," he added.
"I tried to run a hard semi and look around. Obviously now five years later I'm a lot fitter than I was, I was 21, when I came out for the finals I was a little gassed, a little tired, I looked to the side and I couldn't catch him.
"Five years later my fitness is there, I knew even yesterday I had a lot more in the tank. My coach said I could get 19.5, I trusted him and went for it."
In a star-studded race, De Grasse beat American duo Kenny Bednarek and Noah Lyles – the latter the 2019 world champion.
He said having such strong competition is a motivating factor.
"These guys next to me motivate me a lot, when I see them running fast times I want to run fast times," he said.
"I've raced Noah a couple of times in the past pre-pandemic, I know he always brings it. Kenny, he always brings it too.
"I knew coming home it was going to be fast. My last personal best [before Tokyo] was five years ago – a 19.80 – I knew I was better than that. Having these guys push me made it easier for me."