Los Angeles Lakers star Carmelo Anthony saluted the 40-point performance of Ja Morant as the Memphis Grizzlies just came up short 121-118 at Staples Center on Sunday.
The Lakers had lost their first two matches of the season prior to Sunday's contest – the most recent defeat had been against the Phoenix Suns on Saturday.
But they got the job done at the third time of asking to kick-start their campaign.
Morant certainly made the Lakers work for their victory, the 22-year-old top-scoring with 40 and also adding 10 assists as he impressed.
While the Lakers ultimately outlasted him and the Grizzlies, Anthony – whose 28 points was the second-highest score posted – made a point of applauding Morant's efforts.
"It's showtime every time teams go against us. We understand that. We expect that," the 37-year-old said.
"Somebody like Ja, he's going to continue to get better. He's going to continue to elevate. He is the future of this NBA, and he shows that every single night, what he's able to bring to the game."
Anthony's 28 saw him surpass Moses Malone in ninth place on the all-time NBA leading scorers list, and while he did not let such an achievement distract him out on court, he did allow for it to process afterwards.
"When you're in a battle like that, like tonight, it's kind of hard to put everything in perspective or even think about it because the game is so close, so tight," he said.
"So, you don't even want to try to think about too many things out there on the court at that moment but making a play, getting a stop and winning the basketball game.
"But – I keep saying this, man – it's an honour, it's a blessing to be in that list, to pass Moses and know what Moses did, what he did for the game of basketball, it's hard to put it in words.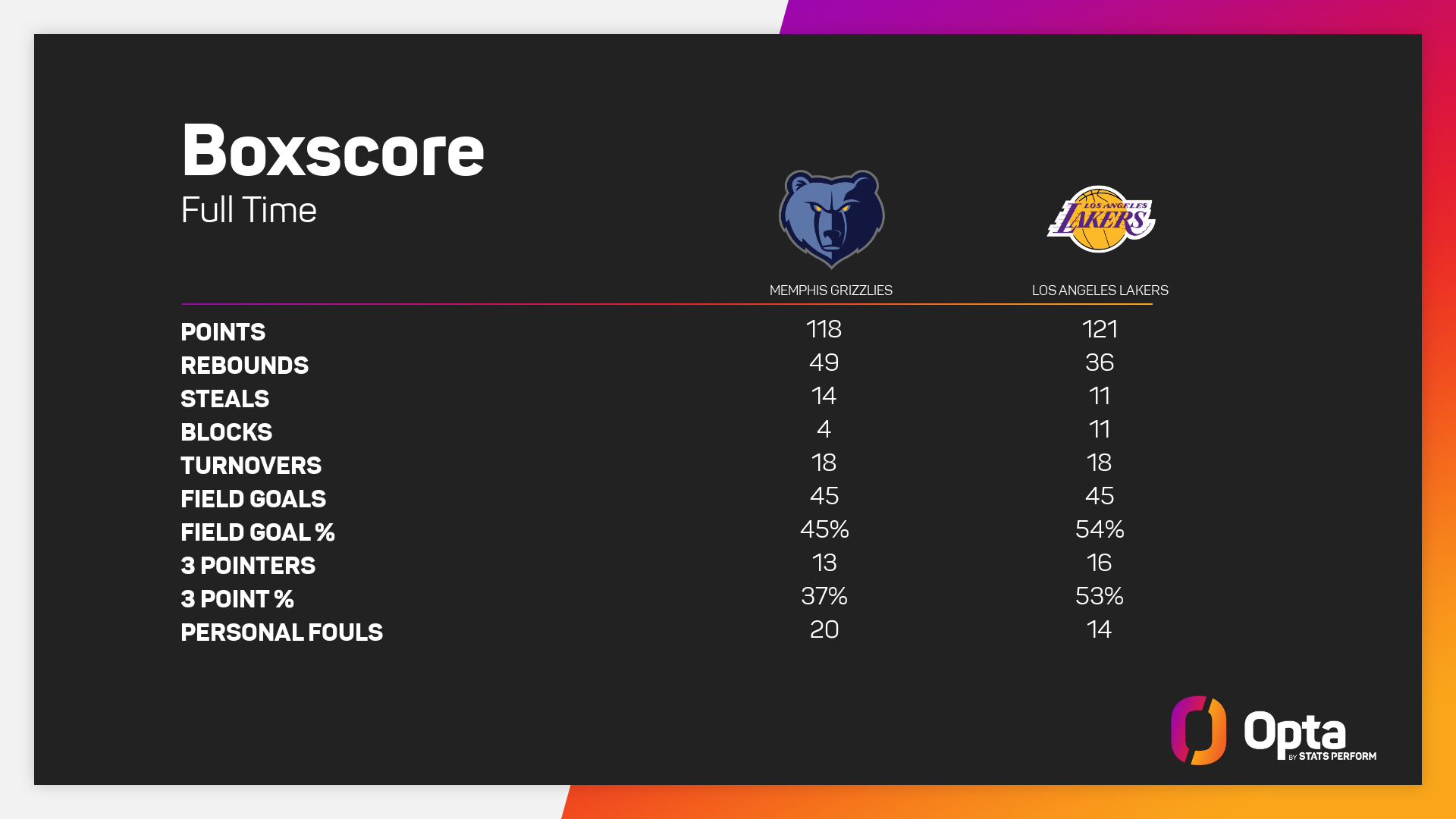 "I'm still here doing it. I think that's what I'm honestly excited about. I'm here in year 19 still doing what I'm able to do."
Lakers coach Frank Vogel had been particularly keen to see an improvement following the defeat to the Suns and Golden State Warriors, with an in-depth video session seen as a good way to get ahead of their issues.
Vogel felt it yielded tangible results against the Grizzlies and is hoping that is a sign of things to come in terms of their cohesion.
"Losing your first two home games didn't sit well with our group," Vogel added. "We came out very motivated tonight and we've got a lot of belief in who we can be this year, but we also have a lot of work to do, and we had a very, very productive film session yesterday.
"It cleaned a lot of things up and the effort was much better tonight. The attention to detail was much better tonight and that's how we're going to have to improve and gel."