De'Anthony Melton and the Memphis Grizzlies could not hide their delight after embarrassing the Oklahoma City Thunder by 73 points to set an NBA record.
The merciless Grizzlies broke the record for the largest margin of victory in league history thanks to Thursday's devastating 152-79 triumph.
Oklahoma City were without star Shai Gilgeous-Alexander and Rookie of the Year contender Josh Giddey away to the Grizzlies in Memphis.
The Grizzlies, who were without a star of their own in Ja Morant, took full advantage as they eclipsed the 1991 Cleveland Cavaliers (68 points) for the largest winning margin.
"Man, it feels great. It feels great to be in the history books, especially in front of our home crowd,'' said Melton, who put up 19 points for the Grizzlies.
"And we did it one through 15. Everybody contributed, everybody played hard and we all got to get in the game. So, it's always a blessing.
"We knew with [Morant] going down what we had to do. We had to step up.''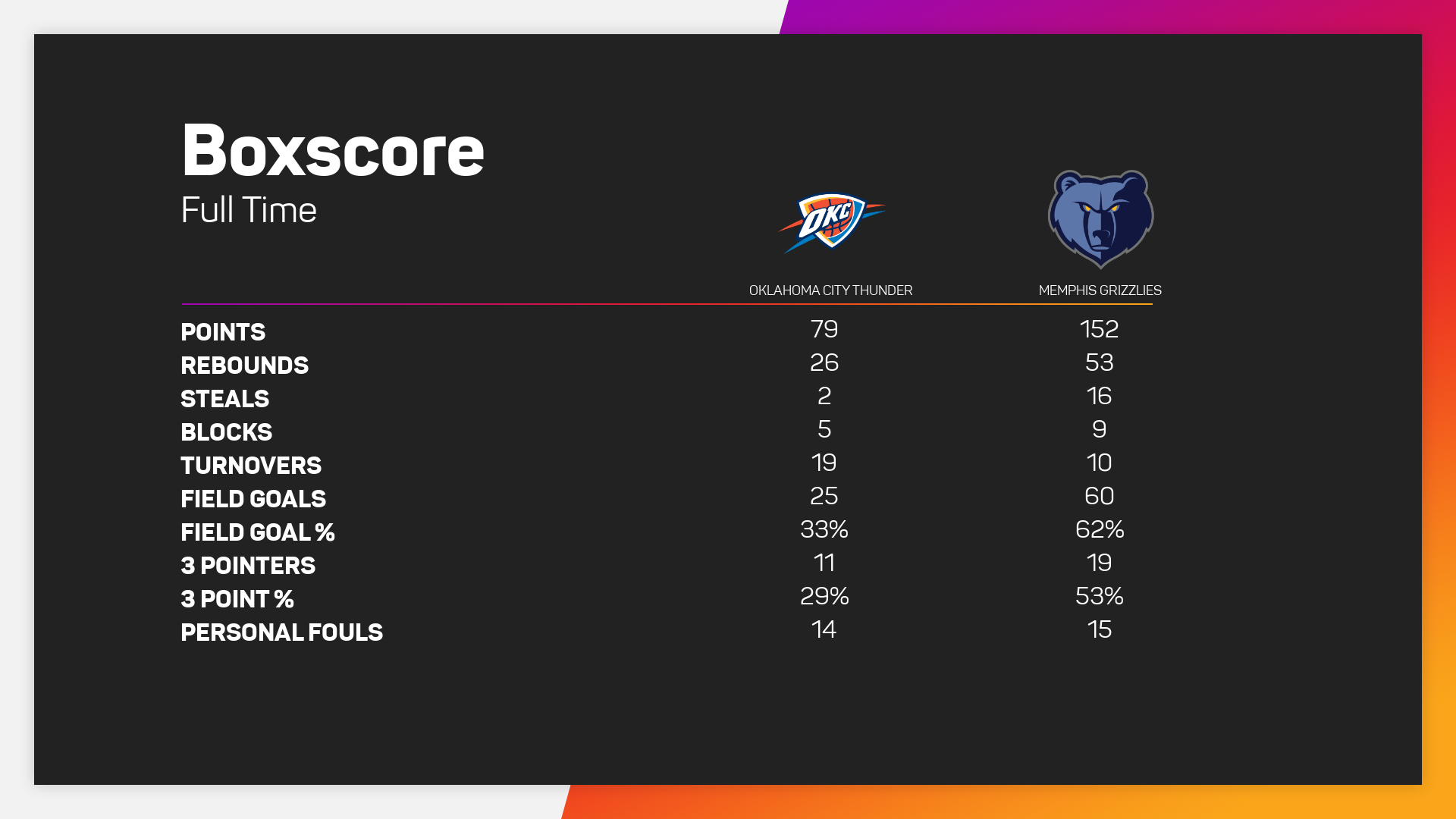 According to Stats Perform, 152 is the most points in NBA history by a team missing a player who was leading the team in total points and assists entering the game following Morant's absence.
Jaren Jackson Jr. picked up the slack with Morant sidelined, pouring in 27 points for the Grizzlies – who shot 62.5 per cent from the field.
Melton, Santi Aldama (18), John Konchar (17), Dillon Brooks (11), Jarrett Culver (11), Xavier Tillman (11), Brandon Clarke (11) and Tyus Jones (10) all had double-digit points for the Grizzlies.
Memphis, who have beaten the Thunder in four straight games for their best winning streak against the franchise since 2013-16, were also 52.8 per cent from three-point range as Jackson made six of his seven attempts from beyond the arc.
"Franchise records are obviously great. Obviously proud of our guys that they don't think about that,'' Memphis head coach Taylor Jenkins said.
"We're just motivated by what are our standards every single night. Tonight was on pretty full display both offensively and defensively.''
The @memgrizz were without Ja Morant tonight, yet still scored 152 points.

That's the most points in NBA history by a team missing a player who was leading the team in total points and assists entering the game.

— Stats By STATS (@StatsBySTATS) December 3, 2021
Lu Dort was the pick of the Thunder players with 15 points on three-of-eight shooting in 25 minutes – Oklahoma City are now amid an eight-game losing streak.
The Thunder (6-16) – in the process of a rebuild – were just 32.9 per cent from the floor in a forgettable display.
"Tonight is not necessarily who we are,'' Thunder head coach Mark Daigneault said. "I think we've definitely shown that from a competitive standpoint. This isn't indicative of who our team is.''
"Obviously, it was a combination of things,'' Daigneault said. "They played with great force and pace. They made some shots. We didn't shoot it well early and just really couldn't get a grip on the game. Any part of the game.''
Daigneault added: "When you compete, you have exposure to the highs and lows of competition. And competition comes with great joy, and it also comes with grief and frustration and anger. And when you step in that ring, that's what you expose yourself to is all of those things.
"It's why the joy feels so good, because when you get punched and you taste your own blood, it doesn't feel right.''