Karim Benzema will be extra motivated to win the 2022 Ballon d'Or after finishing fourth in this year's voting, according to Real Madrid head coach Carlo Ancelotti.
The 33-year-old has scored 34 goals for Madrid this calendar year and was recalled to the France squad in May after a six-year exile.
Benzema's combined 46 goals and assists in 2021 has been bettered only by Erling Haaland (48), Kylian Mbappe (51) and Robert Lewandowski (59) from Europe's top five leagues when taking all club competitions into account.
The Madrid striker finished behind Euro 2020 winner Jorginho, Lewandowski and record seven-time winner Lionel Messi at Monday's Ballon d'Or ceremony, with N'Golo Kante completing the top five.
Benzema's Madrid team-mate Toni Kroos has argued the Frenchman did more than Paris Saint-Germain star Messi this year to win the award.
But Ancelotti accepts the decision, determined by journalists from across the world, and insists Benzema will not be fazed by finishing outside the top three.
"We have to give fair value to the classification," he said at a news conference previewing Wednesday's LaLiga contest with Athletic Bilbao.
"Messi has won and we must congratulate him. The individual awards are important but if they do not win it is not a catastrophe. I hope next year a Madrid player will win it.
"Benzema has had a great season and finished fourth. He will continue to be motivated to try to be first next time.
"If I had a vote, I would not choose any player outside of my own team. I'd have voted Benzema first, Vinicius [Junior] second, [Thibaut] Courtois third, Casemiro fourth.
"But you have to respect and congratulate Messi on winning."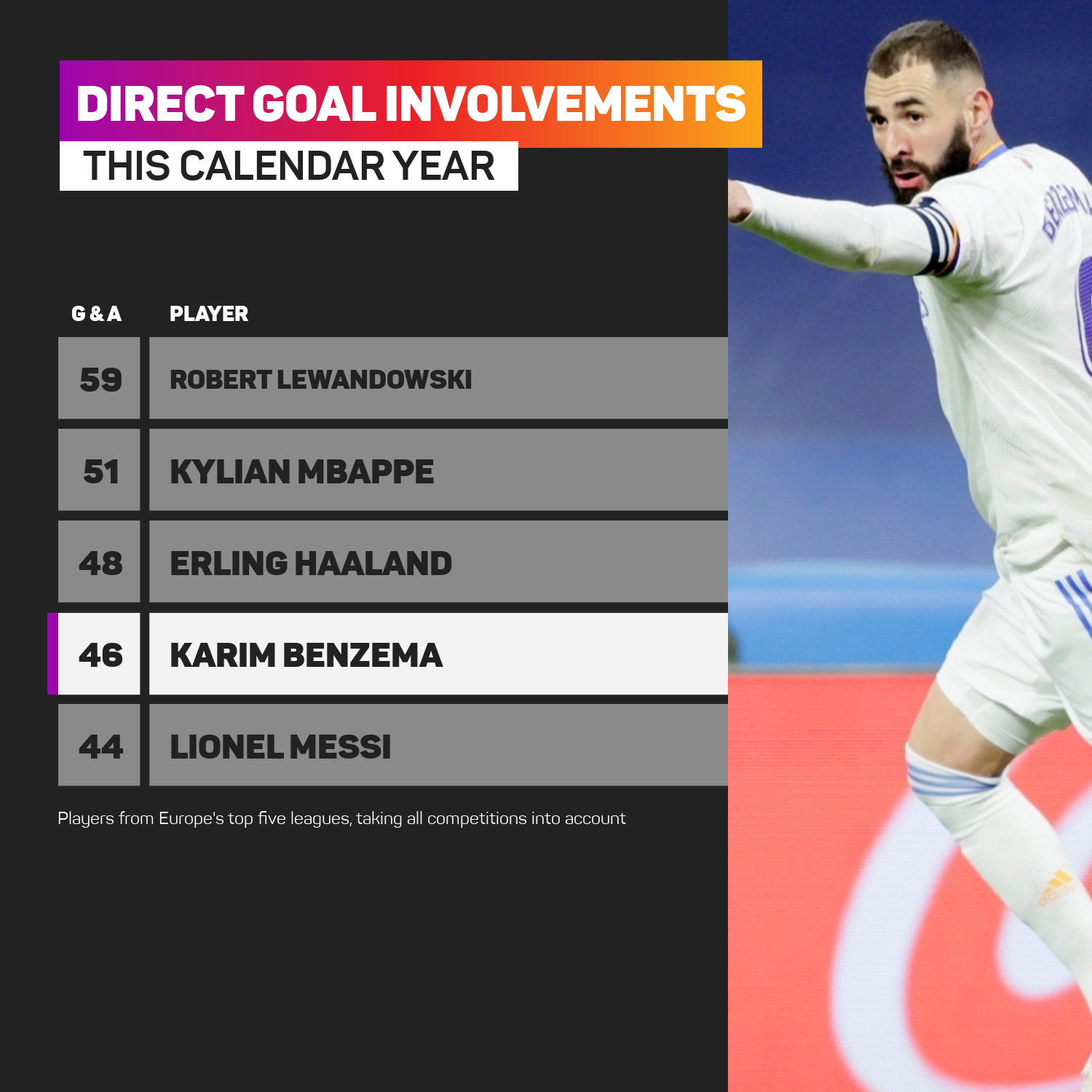 Madrid-linked forward Kylian Mbappe finished ninth, but Ancelotti does not believe leaving Paris Saint-Germain will necessarily enhance his chances of winning the coveted crown.
"Playing for a great club can help you, but it is still an individual prize," Ancelotti said when asked specifically about Mbappe.
"These players will not cry because they have not won the award. The likes of Benzema and Courtois will accept it without a problem."
Benzema and Vinicius are in contention to start Wednesday's clash with Athletic as Madrid aim to make it five league wins in a row and maintain a four-point lead at the top.
Madrid are unbeaten in their last 12 LaLiga games against Athletic (W8 D4), one short of their best unbeaten run against the Basque club in the top flight.
Ancelotti, who has lost only one of his four LaLiga games against Athletic, is prepared to make changes to Madrid's line-up three days on from their 2-1 win against Sevilla.
"It's an evaluation I make every day," he said. "The dynamics of the team right now are very good. I won't rotate for the sake of it, but if we have any risks then of course we will do it.
"We are facing a well organised team at the back. Marcelino trains all his teams very well, especially in a defensive sense.
"This game will demand a lot from us and we need some offensive clarity. They are also a team that attacks vertically, so we must show good balance."
Despite having to contend with injury problems and a congested schedule, Ancelotti reiterated Madrid are not likely to bring in any new players in January.
"You have the summer to improve the squad," he said. "I don't like using January to adjust as that means something must have gone wrong in the summer.
"If players are not happy then we'll think about it, but we are not looking to sign. The squad is fine and will compete until the end."