Rafael Nadal almost pulled out of the Australian Open just days before heading to Melbourne, according to his uncle.
The 35-year-old battled past Denis Shapovalov on Tuesday to reach the semi-finals of the tournament for just the third time since 2016.
Nadal, who is chasing a record 21st grand slam title to break the three-way tie with Roger Federer and Novak Djokovic, has only won the first major of the year once in his career – back in 2009 – and lost at the quarter-final stage in 2020 and 2021.
Even with nine-time champion Djokovic not competing after being deported by border authorities over a visa dispute, few considered Nadal to be the favourite for the title this year given he went from August to December in 2021 without playing a match, having undergone surgery on a foot injury.
Nadal has looked in strong form, though, even recovering from apparent stomach trouble and difficulty in the heat to beat Shapovalov 6-3 6-4 4-6 3-6 6-3 after more than four hours of action on Rod Laver Arena.
Toni Nadal, his coach for most of his professional career, said his nephew nearly decided against competing at all in Australia as he did not feel ready.
¡DALE RAFA!@RafaelNadal is through to the #AusOpen semifinals with a 6-3 6-4 4-6 3-6 6-3 victory over Denis Shapovalov

: @AustralianOpen | #AusOpen | #AO2022 pic.twitter.com/9xsybToVTQ

— ATP Tour (@atptour) January 25, 2022
Asked if he were surprised by Nadal's form, he told Cadena SER: "Yes, I'm surprised, because I remember when three days before the start, Rafa called my youngest son to hit a few balls after being quarantined due to coronavirus.
"At nine o'clock, we went to train and during training, he said, 'I don't know if I'm going to go or not because at the moment I'm not in condition for an Australian Open'. They only had three days to get a flight.
"The following day, he perked up and said 'Okay, come on, I'm going'. I think it was more the excitement of competing and returning to competition than believing in himself."
Speaking about the quarter-final, Toni Nadal said his brother in Australia told the family about the problems with the heat on court.
"He looked good. In the first two sets, he played at quite a good level against a tough opponent," he said.
"Everything changed as a result of heatstroke. We were watching the game with the family and at one point, after the second set, I said, 'well, I think this is done', and my brother in Australia said no, he's literally exhausted, and he'd told them he had had heatstroke."
Shapovalov lost his temper with umpire Carlos Bernardes during the match for refusing to give Nadal a time violation during a change of ends, proclaiming "You guys are all corrupt" before claiming post-match that players such as Nadal receive preferential treatment on court.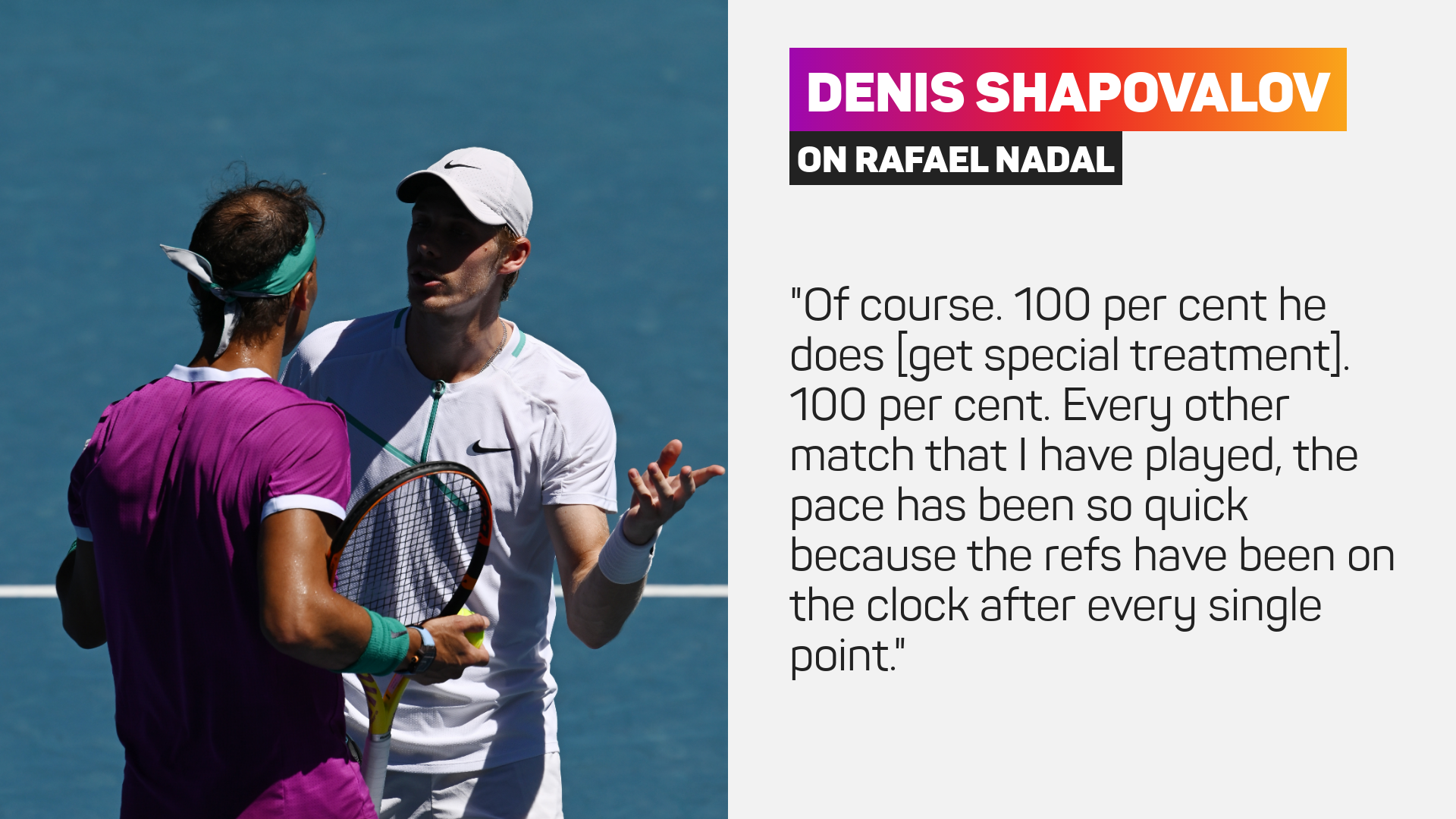 "I think he is totally wrong," said Toni. "When you have to change, you need time and the umpire normally looks at the players and sees the time and starts the clock later. He pressed too soon, realised it and that's why he gave Rafa more time.
"Young people sometimes act without thinking. How could an umpire be corrupt?"